Behind the racism
And the tweet
Behind the venom
And the act
Lies the Hatred.
In less than 12 hours, Roseanne Barr demolished her hit show, Roseanne, and threw the lives of dozens of men and women into unemployed chaos.
A short timeline is instructive:
May 28, 2018  – 1:45 a.m.
Roseanne Barr takes to Twitter and tweets: "muslim brotherhood and planet of the apes had a baby = vj"
["vj" stands for "Valerie Jarrett," a former senior adviser and assistant for public engagement and intergovernmental affairs for President Barack Obama. The reference to "planet of the apes" is Barr's way of comparing Jarrett—who is black—to an ape.]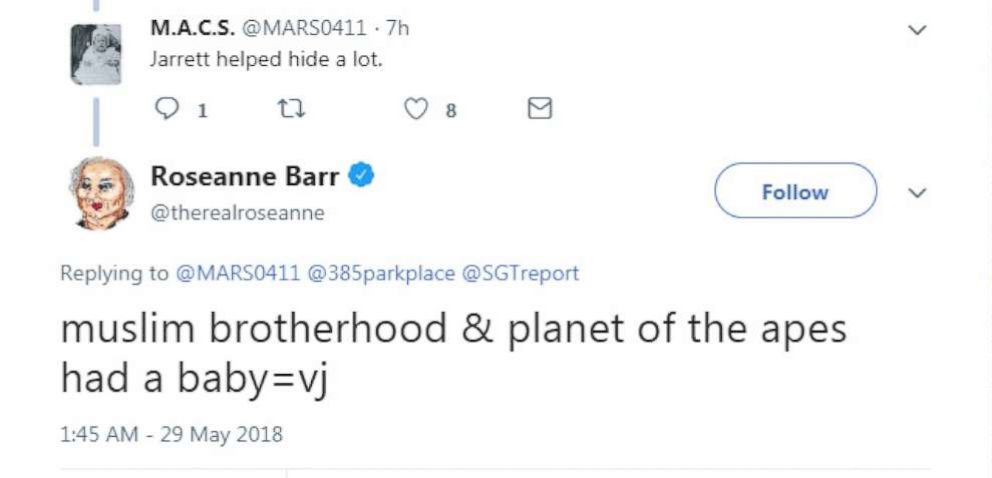 May 29 – 6:29 a.m.
"It's a joke."
[Apparently, Barr has suddenly realized that posting such a racist, poisonous tweet just might not be a good career move. So she's trying to defuse the bomb before it can explode on her.]
May 29 – 9:28 a.m.
"I apologize. I am now leaving Twitter."
[Obviously, she's really worried now.]
May 29 – 7:33 a.m.
"I apologize to Valerie Jarrett and to all Americans.  I am truly sorry for making a bad joke about her politics and her looks. I should have known better.  Forgive me–my joke was in bad taste."
[This looks like standard boiletplate, perhaps crafted by someone familiar with corporate-speak.  It's clear that Barr or someone close to her not only recognizes the public relations dangers of her tweet but made an "I was only joking" effort to deflect those dangers. Barr's idol, President Donald Trump, has often hurled despicable insults at people—and then claimed: "I was only joking."  Perhaps Barr believes—or at least hopes—the same tactic will work for her.]
Roseanne Barr (Pinterest)
May 29 – 9:15 a.m.
Channing Dungey, entertainment president of the American Broadcasting Company (ABC), issues the following announcement: "Roseanne's Twitter statement is abhorrent, repugnant and inconsistent with our values, and we have decided to cancel her show."
Robert Iger, CEO of Disney (which owns ABC) tweets:  "There was only one thing to do here, and that was the right thing."
This was, of course, not the first time that Roseanne Barr had starred in her own series.  From 1988 to 1997, she had portrayed Roseanne Conner, wife and mother of an Illinois working-class American family.  John Goodman had played her husband.
Their three children (Becky, Darlene, and DJ) were played by, respectively, Lecy Goranson (and, later, Sarah Chalke); Sarah Gilbert; and Michael Fishman.
The series reached No. 1 in the Nielsen ratings, and became the most watched television show in the United States from 1989 to 1990.
The show remained in the top four for six of its nine seasons, and in the top 20 for eight seasons.  In 2002, Roseanne was ranked No. 35 on TV Guide's 50 Greatest TV Shows of All Time. 
So when Roseanne pitched an updated version of her show to ABC in 2017, the network was naturally excited.
On May 16, 2017, ABC announced that it would revive Roseanne as a mid-season replacement in 2018, with the original cast returning. Eight episodes were ordered. In November, ABC ordered a ninth episode.
The rebooted version premiered on March 27, 2018, to an initial audience of 27.26 million viewers. On March 30, thrilled by the success of its premiere, ABC renewed Roseanne for another 13 episodes.
Thirteen new episodes of Roseanne represented steady work for dozens of men and women:
Actors portraying the Conner family.

Actors in minor roles.

Costume designers.

Writers

Editors

Makeup artists.

Caterers.

Sound techs.

Lighting techs.

Production assistants.
Then came Roseanne Barr's tweet.
And, suddenly, all of these people found themselves unemployed—and uncertain about their futures in the fickle and often unforgiving entertainment industry.
Of course, the person most immediately—and rightly—blamed was Roseanne Barr herself. But she was by no means the only one worthy of condemnation.
A major portion of blame is owed the men who run Twitter.
According to "The Twitter Rules," posted on the Twitter website:
We believe in freedom of expression and open dialogue, but that means little as an underlying philosophy if voices are silenced because people are afraid to speak up.
In order to ensure that people feel safe expressing diverse opinions and beliefs, we prohibit behavior that crosses the line into abuse, including behavior that harasses, intimidates, or uses fear to silence another user's voice.
Context matters when evaluating for abusive behavior and determining appropriate enforcement actions. Factors we may take into consideration include, but are not limited to whether:
the behavior is targeted at an individual or group of people;
the report has been filed by the target of the abuse or a bystander;
the behavior is newsworthy and in the legitimate public interest.
Abuse: You may not engage in the targeted harassment of someone, or incite other people to do so. We consider abusive behavior an attempt to harass, intimidate, or silence someone else's voice….
Hateful conduct: You may not promote violence against, threaten, or harass other people on the basis of race, ethnicity, national origin, sexual orientation, gender, gender identity, religious affiliation, age, disability, or serious disease. Read more about our hateful conduct policy.
All of which leads to the question: Why hasn't Twitter policed—and purged—the single greatest abuser of its "Twitter Rules": Donald Trump?