On April 15, millions across France gasped in horror at the sight of Notre Dame Cathedral going up in flames.  
The Cathedral, perhaps the most iconic building in Paris, is visited by more than 14 million people every year. Built between 1160 and 1345, it has long been one of the most important sites in Christendom. 
A law passed in 1905 classified the cathedral as a Historical Monument and thus the property of the state. But its use is dedicated exclusively to the Roman Catholic Church. Catholics are estimated to comprise between 41% and 88% of France's population.
But by April 19, for untold numbers of French citizens, horror and sadness had been replaced by anger.  
Notre Dame Cathedral fire
LeLaisserPasserA38, CC BY-SA 4.0 <https://creativecommons.org/licenses/by-sa/4.0&gt;, via Wikimedia Commons
So what had happened to arouse this? 
First, French President Emmanuel Macron addressed the nation to speak about the fire. In doing so, he totally ignored the violent protests against inequality that have erupted throughout the country since last November.
Low-paid workers and pensioners have accused Macron's government of favoring the rich. The activists are named Yellow Vests—after the fluorescent jackets French motorists are required to keep in their cars.
Second, in just a few hours, billionaires pledged hundreds of millions of dollars (euros) to help restore the damaged cathedral.
"You're there, looking at all these millions accumulating, after spending five months in the streets fighting social and fiscal injustice. It's breaking my heart," Ingrid Levavasseur, a founding leader of the movement, told The Associated Press.
"What happened at Notre Dame is obviously a deplorable tragedy. But nobody died," Levavasseur said. "I've heard someone speaking of national mourning. Are they out of their minds?"
"The yellow vests will show their anger against the billion found in four days for stones, and nothing for the needy," wrote Pierre Derrien on Facebook.
More than $1 billion has been pledged for the cathedral's restoration, and many French citizens believe the money could be better spent elsewhere. And the billionaires' donations entitle them to huge tax deductions.
"If they can give dozens of millions to rebuild Notre Dame, they should stop telling us there is no money to respond to the social emergency," CGT trade union leader Philippe Martinez said.
But this is generally how the rich and powerful react to the needs of the neediest.
In 2016, returning to Congress after their traditional summer recess, House Republicans planned to cut $23 billion in food stamps for the poor. This included ending waivers that allowed some adults to get temporary assistance while they were in school or training for a job.  
The cuts were to include drug tests of applicants and tougher work rules. As Republicans see it: There's no point in "helping" the poor if you can't humiliate them.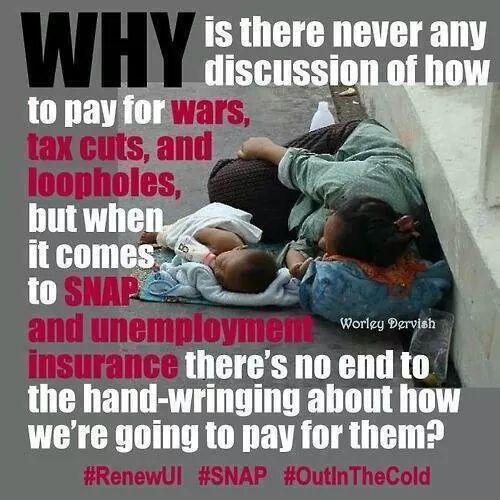 The food stamp program, now called the Supplemental Nutrition Assistance Program, or SNAP, served more than 46 million Americans and cost $74 billion in 2015. 
Meanwhile, Republicans were eager to spend billions of dollars for another project: An unnecessary war with Syria.
One of these right-wingers was Bill Kristol, editor of the Weekly Standard—and one of the leading instigators of the 2003 war with Iraq.
Bill Kristol
He—like senior officials on the George W. Bush administration—falsely claimed that Iraqi dictator Saddam Hussein had weapons of mass destruction and planned to use them against the United States.
Another Kristol lie: Hussein planned 9/11 with Osama bin Laden.
He has never apologized for either lie—or the resulting war that killed 4,487 American soldiers and wounded another 32,226.
In a September, 2013 column, Kristol called for a return to slaughter—not only in Syria but Iran as well:
"…Soon after voting to authorize the use of force against the [Bashar al-] Assad regime, Republicans might consider moving an authorization for the use of force against the Iranian nuclear weapons program.
"They can explain that [President Barack] Obama's dithering in the case of Syria shows the utility of unequivocally giving him the authority to act early with respect to Iran."
Among Republican U.S. Senators calling for war were Arizona's John McCain and South Carolina's Lindsey Graham, who issued a joint statement:
"Using stand-off weapons, without boots on the ground, and at minimal risk to our men and women in uniform, we can significantly degrade Assad's air power and ballistic missile capabilities and help to establish and defend safe areas on  the ground."
In addition: A major weapon for "degrading Assad's air power" would be Tomahawk Cruise missiles. A single one of these costs $1,410,000.
Firing of a Tomahawk Cruise missile
A protracted missile strike would rain literally billions of dollars' worth of American missiles on Syria.
Meanwhile, the Pentagon was spending about $27 million a week to maintain the increased U.S. Navy presence in the Mediterranean Sea and Middle East region to keep watch over Syria and be prepared to strike.
Navy officials said it cost about $25 million a week for the carrier group and $2 million a week for each destroyer.
Is there a lesson to be learned from all this?
Yes.
Powerful people—whether generals, politicians or the wealthy—will always find abundant money and resources available for pet projects they consider important.
It's only when it comes to projects that other people actually need that the powerful will claim there is, unfortunately, a cash shortage.