There is a poignant scene in the middle of John Milius' classic 1975 adventure film, The Wind and the Lion, that Americans would do well to remember.
The movie is set in 1904 America and Morocco. An American woman, Eden Pedicaris (Candice Bergen) and her two children have been kidnapped while vacationing in Tangier.
The kidnapper is a Berber brigand named Mulai Ahmed el Raisuli (Sean Connery—then successfully trying to shed his recent James Bond image).
To Raisuli, the Sultan and his uncle, the Pasha of Tangier, are corrupt and beholden to the European powers struggling to control Morocco.
Raisuli issues an outrageous ransom demand to provoke an international incident, embarrass the Sultan and start a civil war.
In the United States, President Theodore Roosevelt (Brian Keith) is running for re-election. He sees the crisis as a way to win votes and demonstrate America's military strength as a new power.
So he issues a demand of his own: "Pedicarus alive—or Raisuli dead!"
While events rapidly spiral out of control in the Middle East, Roosevelt decides to vacation in Yellowstone National Park.
One night, a grizzly bear attacks the camp and is shot by Roosevelt and several other campers.  The next morning, Roosevelt holds an imprumptu press conference for the reporters who have accompanied him.
Brian Keith (left) as Theodore Roosevelt
REPORTER:  Did you take part in killing the grizzly, Mr. President?
ROOSEVELT:  Yes, unfortunately.
REPORTER:  Why do you say, 'unfortunately,' Mr. President?
ROOSEVELT:  The American grizzly is a symbol of the American character: strength, intelligence, ferocity. Maybe a little blind and reckless at times, but courageous beyond all doubt. And one other trait that goes with all previous.
REPORTER:  And that, Mr. President?
ROOSEVELT:  Loneliness. The American grizzly lives out his life alone. Indomitable, unconquered—but always alone. He has no real allies, only enemies, but none of them as great as he.
REPORTER:  And you feel this might be an American trait?
ROOSEVELT:  Certainly. The world will never love us. They respect us—they might even grow to fear us. But they will never love us, for we have too much audacity! And, we're a bit blind and reckless at times, too.
REPORTER:  Are you perhaps referring to the situation in Morocco and the Panama Canal.
ROOSEVELT:  If you say so. The American grizzly embodies the spirit of America. He should be our symbol! Not that ridiculous eagle—he's nothing more than a dandified vulture.
When the Pasha of Tangier refuses to negotiate with Raisuli to secure the return of Pedecaris, the American Consul to Tangier, Samuel Gummere, decides on action. He confers with Admiral Chadwick, commanding the South Atlantic Squadron, and a Marine captain named Jerome.
Gummere then orders a company of Marines, supported by a small detachment of sailors, to seize the Pasha. But then he admits to the riskiness of the decision:
GUMMERE:  You realize, of course, that if we fail in even the slightest way, we'll all be killed.
CHADWICK:  Yes, and the whole world will probably go to war.
JEROME: Gentlemen, if we fail and are killed, I certainly hope the world does go to war. 
CHADWICK:  A world ar war!
GUMMERE:  A world war. Now that would be something to go out on.
In just ten years, they will get their hearts' desire when World War 1 erupts.
The Marines quickly overwhelm the Pasha's palace guard, take the Pasha hostage and force him to negotiate.
During the hostage exchange, Raisuli is betrayed and captured by German and Moroccan troops.   His friend, the Sherif of Wazan, organizes the Berber tribe for an attack on the Europeans and their Moroccan lackeys.
Eden Pedecaris, who has grown to admire Raisuli, convinces a Marine captain and his men to rescue the Berber chieftain. She argues that President Roosevelt had promised that Raisuli would be unharmed if the Pedecarises were returned safely.
The Berbers and Marines team up to defeat the Germans and their Moroccan allies, rescuing Raisuli in the process.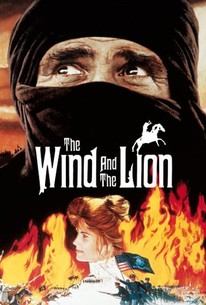 Thirteen years later—in 1917—the United States will officially take on the Germans in World War 1.  And in another 37 years—in 1941—America will again declare war on Germany.
The film ends with a confident Theodore Roosevelt expecting (accurately) to be re-elected—and telling reporters  that "the fate of Morocco will be decided tomorrow by me."
The Wind and the Lion is set in an era when
Nuclear weapons did not exist;

Russia and China were militarily insignificant nations;

England was the world's superpower;

America, Germany and Japan were on the rise;

Israel was still a distant dream in the eyes of European Jews;

The "Great Powers"—Germany, France and Great Britain—were struggling to carve up the Middle East to exploit its massive oil reserves; and

Americans did not feel threatened by Islamic radicals.
As complex and dangerous as that era often seemed to those living more than 100 years ago, it has been succeeded by one even more complex and dangerous.
In this new and even more lethal era, it is well to remember Theodore Roosevelt's warning that "we're a bit blind and reckless at times, too."