The last three provisions of an Employers Responsibility Act (ERA) would cover the following:
(12)  The Justice Department and/or the Labor Department would be required to maintain a publicly-accessible database on those companies that had been cited, sued and/or convicted for such offenses as
discrimination,
harassment,
health and/or safety violations or
violating immigration laws. 
Employers would be legally required to regularly provide such information to these agencies, so that it would remain accurate and up-to-date. 
Such information would arm job applicants with vital information about the employers they were approaching.  They could thus decide in advance if an employer is deserving of their skills and dedication.
As matters now stand, employers can legally demand to learn highly private details of an applicant's life without having to disclose even the most basic information about themselves and their history of treating employees.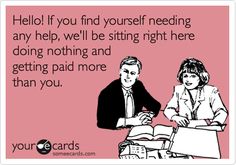 (13)  CEOs whose companies employ illegal aliens would be held directly accountable for the actions of their subordinates. Upon conviction, the CEO would be sentenced to a mandatory prison term of at least ten years.
This would prove a more effective remedy for controlling illegal immigration than stationing tens of thousands of soldiers on the U.S./ Mexican border. With CEOs forced to account for their subordinates' actions, they would take drastic steps to ensure their companies complied with Federal immigration laws.
Without employers eager to hire illegal aliens at a fraction of the money paid to American workers, the invasions of illegal job-seekers would quickly come to an end.
(14)  A portion of employers' existing Federal taxes would be set aside to create a national clearinghouse for placing unemployed but qualified job-seekers.
* * * * *
Right-wing capitalists and their paid shills in Congress would attack such legislation as radically Communist. But an Employers Responsibility Act (ERA) would greatly increase America's economic strength. 
With a fully-employed workforce, far more consumers could afford the wide array of goods and services turned out by American business.
When consumers can't afford these, companies are forced to cut their employees and produce fewer goods, which creates an ever-downward spiral.
An ERA would allow Democrats to address the needs of blue-collar workers who once served as one of their primary constituencies. 
During the 2016 Presidential campaign, Democratic nominee Hillary Clinton voiced the frustrations of millions of poor and middle-class Americans who felt abandoned by their employers and Washington policymakers. 
Hillary Clinton
On September 26, Clinton said:
There "are people who feel that the government has let them down, the economy has let them down. Nobody cares about them. Nobody worries about what happens to their lives and their futures, and they're just desperate for change. It doesn't really even matter where it comes from.
"They don't buy everything [Donald Trump] says, but he seems to hold out some hope that their lives will be different. They won't wake up and see their jobs disappear, lose a kid to heroin, feel like they're in a dead-end. Those are people we have to understand and empathize with as well."
Eloquent words. But Clinton didn't offer an economic package to quickly and effectively address Americans' needs for jobs and medical care.
Her "remedy"?
The tired Democratic mantra: "Education is the answer."
In May, 2016, Democratic pollster CeLinda Lake had warned Clinton to revamp her economic platform.
"Democrats simply have to come up with a more robust economic frame and message," Lake said after the election.
"We're never going to win those white, blue-collar voters if we're not better on the economy. And 27 policy papers and a list of positions is not a frame. We can laugh about it all we want, but Trump had one." 
Corporations are masters at turning disadvantages for others into advantages for themselves.
As countless employers whine about rising inflation during the Coronavirus pandemic, there has been a corresponding rise in corporate profits. 
According to Isabella Weber, professor of economics at the University of Massachusetts Amherst, this is no accident.
Isabella Weber
In a February 13 interview on NPR, she said:
"Companies always want to maximize profits, right? In the current context [of supply chain hardships] they suddenly cannot deliver as much anymore as they used to. And this creates an opening where they can say, 'Well, we are facing increasing costs. We are facing all these issues. So we can explain to our customers that we are raising our prices.'
"No one knows how much exactly these prices should be increased. And everybody has some sort of an understanding that, oh, yeah, there are issues, so, yes, of course companies are increasing prices in ways in which they could not justify in normal times.
"But this does not mean that the actual amount of price increase is justified by the increase in costs. And as a matter of fact, what we have seen is that profits are skyrocketing, which means that companies have increased prices by more than cost.
"In the earnings reports, companies have bragged about how they have managed to be ahead of the inflation curve, how they have managed to jack up prices more than their costs and as a result have delivered these record profits."