After Donald Trump won the 2016 election, many people feared he would embark on a radical Right-wing agenda. But others hoped that the Washington bureaucracy would "box him in."
The same sentiments echoed throughout Germany after Adolf Hitler was appointed Chancellor of Germany on January 30, 1933.
The 1983 TV  mini-series, The Winds of War, offered a dramatic example of how honorable men can be overwhelmed by a ruthless dictator. 
Based on the bestselling 1971 historical novel by Herman Wouk, the mini-series factually re-created the major historical events of World War II.
One of those events took place on November 5, 1939.
General Walther von Brauchitsch is summoned to the Chancellery in Berlin to meet with Adolf Hitler. He carries a memorandum signed by all the leaders of the German Wehrmacht asserting that Case Yellow—Hitler's planned attack against France—is impossible.
Meanwhile, at the German army headquarters at Zossen, in Berlin, the Wehrmacht's top command wait for word from von Brauchitsch. 
ZOSSEN: 
Brigadier General Armin von Roon: I must confide in you on a very serious matter. I have been approached by certain army personages of the loftiest rank and prestige with a frightening proposal.
Chief of the General Staff Franz Halder:  What did you reply?
Von Roon: That they were talking high treason.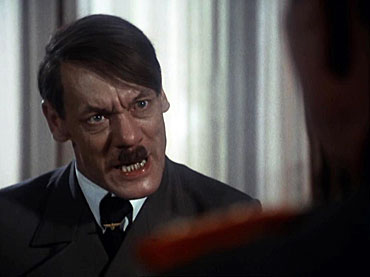 Gunter Meisner as Adolf Hitler in "The Winds of War"
THE WHITE HOUSE:
Fast forward 79 years from Adolf Hitler's stormy confrontation with Walter von Brauchitsch to September 5, 2018.
On September 5, 2018, The New York Times publishes an anonymous Op-Ed essay by "a senior official in the Trump administration."  This spotlights massive dysfunction within the White House—and put the blame squarely on the President. 
Among the revelations:
"Many of the senior officials in his own administration are working diligently from within to frustrate parts of his agenda and his worst inclinations."

"We believe our first duty is to this country, and the president continues to act in a manner that is detrimental to the health of our republic. That is why many Trump appointees have vowed to do what we can to preserve our democratic institutions while thwarting Mr. Trump's more misguided impulses until he is out of office."

"On Russia…the president was reluctant to expel so many of Mr. Putin's spies as punishment for the poisoning of a former Russian spy in Britain….But his national security team knew better—such actions had to be taken, to hold Moscow accountable."

"From the White House to executive branch departments and agencies, senior officials will privately admit their daily disbelief at the commander in chief's comments and actions. Most are working to insulate their operations from his whims." 
ZOSSEN: 
Von Roon: The conspiracy has been going on that long—since Czechoslovakia [1938)?
Halder: If the British had not caved in at Munich [where France and Britain sold out their ally, Czechoslovakia]—perhaps. But they did. And ever then, ever since his big triumph, it has been hopeless. Hopeless.
Von Roon: Empty talk, talk, talk. I am staggered.
Halder: A hundred times I myself could have shot the man. I can still at any time. But what would be the result? Chaos. The people are for him. He has unified the country. We must stick to our posts and save him from making military mistakes. 
THE WHITE HOUSE:
On September 11, 2018, legendary investigative reporter Bob Woodward publishes a devastating take on the Trump administration: Fear: Trump in the White House. The text features explosive revelations about the disdain Trump's staffers have for him: 
Trump was about to sign a letter canceling a free-trade agreement with South Korea. To prevent this, Eric Cohn, his national economic council director, swiped it from Trump's desk. Trump didn't notice it missing.

Secretary of Defense James Mattis said Trump has the understanding of "a fifth or sixth grader."

White House Chief of Staff John Kelly called Trump an "idiot" and "unhinged." 
General Walther von Brauchitsch fails to convince Hitler to postpone "Case Yellow"—the invasion of France. Hitler insists that it commence in seven days—on November 12.
And he issues a warning to the entire German General staff: "I will ruthlessly crush everybody up to the rank of a Field Marshal who dares to oppose me. You don't have to understand. You only have to obey. The German people understand me. I am Germany."
Due to foul weather, Hitler is forced to postpone the invasion of France until June, 1940. But the German General staff can't ultimately put off the war that will destroy them—and Germany.
President Donald Trump:
Fired FBI Director James Comey.

Attacked the integrity of the American Intelligence community.

Attacked the free press as "the enemy of the American people."

Praised brutal Communist dictators Vladimir Putin and Kim Jong Un.

Tried to extort Ukraine into smearing former Vice President Joseph Biden, his 2020 rival for the White House.

Tried to illegally overturn the results of the 2020 Presidential election, which elected Biden.
Like Hitler, he could equally say: I am the destiny of America.  
Hitler's dictatorship ultimately destroyed Germany and reshaped the map of Europe. Trump's attempted dictatorship almost destroyed democracy in America. History has yet to see if Trump will succeed where Hitler failed.