So you want to visit the Pentagon and see how America's military works to protect you?  Fine.
Just be prepared to accept the requirements that go with "security theater."
According to the Pentagon's webpage: "Tours are available Monday through Thursday from 10:00 A.M. to 4:00 P.M. and Friday from 12:00 P.M. to 4:00 P.M., and normally last approximately 60 minutes."
Here's what you'll need to take the tour:
Ages 12 and under – ID not required.

 

Ages 13 to 17 – One form of photo ID or a parent/guardian to vouch for them.
Ages 18 and up – At least one form of proper identification, which must be current and contains a photograph.
The Pentagon
Let's break all this down:
"Ages 12 and under – ID not required."  Strapping bombs to children was a favorite tactic of the Viet Cong. And Al Qaeda has not hesitated to make use of the same weapon. It's not comforting to learn that our military is still looking at children as "babes of innocence" rather than as possible "bombs of convenience."
"Ages 13 to 17 – One form of photo ID or a parent/guardian to vouch for them."  Great! So long as an adult says, "Yeah, he's mine," any teenager can gain entry to America's most important military center. This includes those teens who resent the American military's presence around the world.
"Ages 18 and up – One form of ID, which must be current and contains a photograph, such as a driver's license or U.S. passport.
Knowing a person's identity is useful—so long as you have a reliable database system to match it against.  An example of this is the FBI's National Crime Information Center (NCIC).
Since 1967, the NCIC has been America's central database for tracking crime-related information. It's linked with such information repositories as:
Federal law enforcement agencies
State law enforcement agencies
Local law enforcement agencies
Federal and state motor vehicle registration/licensing agencies.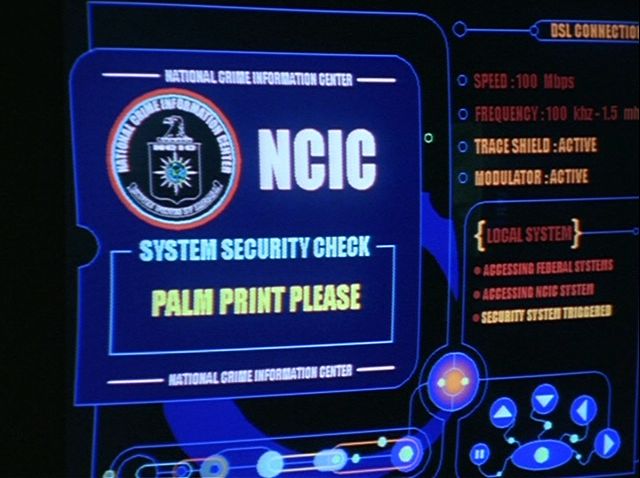 The NCIC makes available a variety of personal and property records for law enforcement and security purposes, covering:
Convicted sex offenders

Criminal convictions
Foreign fugitives
Immigration violators
Persons with active protection orders
Parolees
Persons with active arrest warrants 
Secret Service protective alerts
Terrorist organizations and membership
Violent gang organizations and membership
Behind this lies a simple but highly effective formula, which was best-expressed in the classic 1973 movie, The Day of the Jackal. An anonymous professional killer has been hired to assassinate French President Charles de Gaulle.
At a government meeting called to thwart the plot, a top security expert says: "The first task is to give this man a name. With a name, we get a face, with a face a passport, with a passport an arrest."
But if you don't have a reliable database system to match an ID against, forcing people to "show me your ID" is worthless. What does "John Smith" mean to the average ill-paid security guard?
Even if the person is a wanted criminal, just looking at his ID card is worthless. Unless, of course, the person is so notorious as a criminal that his name is known to almost everyone: "My God, it's Osama bin Laden!"
That's presuming that the person is not only notorious but stupid enough to flaunt it. There is, after all, such a thing as a falsified ID. Every teenager who's ever wanted access to a can of beer knows that.
If it seems impossible that any security official could be so stupid, consider this:
In 2010 a friend of mine decided to rent a P.O. box at his local Postal Service office. He was promptly told he would have to provide two pieces of identification, such as:
A driver's license or State ID card
A passport
A birth certificate
A bill from a utility company, such as for phone or electric service.
Now, consider:
He lived only a few blocks from the post office where he was applying for a P.O. box. 
He had lived at the same apartment building for 22 years.  
The Postal Service had been delivering his mail there that entire time—sometimes knocking at his door to do so. 
When he came to its counter to retrieve mail that was otherwise un-deliverable, his showing a State ID card had been entirely enough.
But, to rent a P.O. box at that very same post office, he had to prove he wasn't a terrorist. And one of the ways he was to do this was to show a utility bill.
What does paying money to an electric or gas company prove about anyone?
Mohammed Atta faithfully paid all his utility bills on an apartment in Hamburg, Germany, where he planned the 9/11 attacks. He continued paying his utility bills during his stay in Venice, Florida—right up to the day he flew American Airlines Flight 11 into the North Tower of the World trade Center. 
In short: Creating security theater is not the same as providing real security.