On June 17, 2021, CNN headlined a story on its website: "Here's Why Fighting the Affordable Care Act Means So Much to Republicans."            
It opened: "For the third time in the last nine years — and this time by a convincing 7-2 vote—the Supreme Court knocked out a Republican effort to invalidate" the Act."        
The Justices said that the challengers of the law did not have legal "standing" to bring the case.
Opponents of the law were not harmed by the provisions they were challenging, the Justices ruled. The reason: Congressional Republicans had eliminated the penalty for failing to buy health insurance.
The Supreme Court
The law now provides access to healthcare for 31 million Americans, who could not otherwise afford coverage.
In addition, the Act:
Eliminates the "pre-existing condition" excuse insurance companies had used to deny coverage to those who most needed it.

Provides a range of no-cost preventive services.

Allows children to stay on their parents' insurance up to age 26.

Expands the Medicaid program that insures lower-income people access to health insurance markets offering subsidized plans.
Why have Republicans pursued its demise so relentlessly? 
The story outlined the reasons that sound good: 
"For the GOP base, the ACA is about a view of the country that the government is the answer to all of our problems.
"It's also tied into their lingering distaste for former President Barack Obama, whose name is literally melded with the law.
"And a belief that the media treated Obama's 'if you like your plan, you can keep your plan' lie and the disastrous rollout (and repeated crashes) of the website allowing people to sign up for a plan with kid gloves because, well, bias."
Let's take a quick look at each of these points.
Millions of Right-wingers hate the Federal Government and openly call for its overthrow. This they vividly demonstrated on January 6, 2021 when they tried to illegally retain Donald Trump as President. They hoped to prevent the selection of Joe Biden as the legitimately-elected President of the United States by storming the Capitol Building.

Racism forms a major component of the GOP's appeal to older, white, Right-wing voters.

So having the name of the first black President unofficially stamped on the law ("Obamacare") serves as a constant spur to their hatred.
Barack Obama
Obama's promise that "If you like your plan, you can keep your plan"

:

The promise backfired because the law stated that those who already had medical insurance could keep their plans—so long as those plans met the requirements of the new healthcare law. If their plans didn't meet those requirements, they would have to obtain coverage that did. 
Now for the real reason Republicans have furiously tried to destroy the Act—one that the writer did not mention.
And like so much else in the Republican agenda, it is rooted in the goals and methods of the Third Reich.
On June 22, 1941, German Fuhrer Adolf Hitler sent three million soldiers smashing into the Soviet Union. During the first six months—June to December, 1941—German armies lured huge Soviet forces into gigantic "cauldron battles," surrounding and exterminating them. 
An estimated 5.7 million Russians became prisoners of the Wehrmacht. The Germans found themselves surprised and overwhelmed by the sheer numbers of them. But their mandate demanded that they keep marching ever forward.
So they simply imprisoned their captives behind barbed wire and wasted no food or medical care on them. Between starvation, illness and the brutal Russian cold, at least 3.5 million POWs died in custody.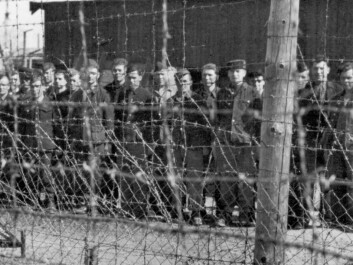 Soviet POW's
Republicans have learned a valuable lesson from this: If you simply deprive those you detest of food, clothing, shelter—and medical care—you don't need gas chambers or firing squads. Or even rigged vote-counts. 
This is, of course, a truth that Republicans refuse to admit—even as they pursue this goal.
On January 11, Iowa House Republicans introduced a bill to drastically eliminate the types of food available to people using the Supplemental Nutrition Assistance Program (SNAP).
Run by the U.S. Department of Agriculture, SNAP provides food assistance to more than 41 million people with low or no income.
Under the proposed restrictions, the following staples would be forbidden:
Fresh meats

Flour

Butter

Cooking oil

Frozen prepared foods

Baked, refried or chili beans 

Sliced, cubed or crumbled cheese 

Salt

Pepper

Canned 

vegetables

Fruit

Soup
In lieu of fresh meats, Iowans would only be allowed to buy canned tuna or salmon.
Iowa House Speaker Pat Grassley—who sponsored the bill–complained that the money allocated toward food security could be better spent on "other priorities." 
Those "other priorities" ignore the sharp rise in grocery prices owing to the conflict in Ukraine, climate change, the deadliest bird flu in American history, transportation costs and alleged supply chain disruptions.
Iowa isn't alone in targeting SNAP. The GOP is doing so at a national level. 
Most Americans—owing to naivety or historical ignorance—cannot accept that their politicians can be as evil as those in other nations.
Those who need food or medical care had better learn this truth quickly.