Since taking office as President on January 20, 2017, Donald Trump has continued to hurl threats of violence against those he hates.
"Trump's language of violence started with immigrants when he launched his presidential campaign in 2015," wrote Washington Post Reporter Eugene Scott. "There is a direct line from his language to real violence against immigrants and other innocent Americans caught in the maniacal mass shootings of the past year.
"And this cancer is spreading: to Congress, to the media, to the intelligence community, to foreign allies. There is no end in sight as Trump becomes increasingly unhinged and the GOP remains frozen in abject silence."
On October 2, 2019, Journalist Nina Burleigh wrote: "Since 2015, TV-watching Americans have been subject to the deimatic spectacle of more than 400 rallies (at least 80 since his election) in which Trump sometimes openly and more often coyly urged supporters to violence. These spectacles have conditioned many Americans to fear him and his more enthusiastic supporters." 
Supporters giving the "Seig Heil" salute to Donald Trump
"Over the last few days, the President's rhetoric of violence and hate has spread," stated an October 3, 2019 press release by America's Voice, a liberal immigration group.
"As Jamelle Bouie noted yesterday, 'Over the weekend, in a rage over impeachment, President Trump accused Representative Adam Schiff of 'treason,' promised 'Big Consequences' for the whistle-blower who sounded the alarm about his phone call with President Volodymyr Zelensky of Ukraine and shared a warning — from a Baptist pastor in Dallas — that impeachment 'will cause a Civil War like fracture in this Nation from which our Country will never heal.'" 
Trump's opponents have good reason to fear. And not simply the public demonstrations by the President's fanatical base. They should fear the secret fantasies of the Right. 
Those secret fantasies have been revealed in a series of Right-wing videos featuring graphic acts of violence against those whom the Right—and Trump—hate.
From October 10 to 12, 2019, attendees of the American Priority Conference at the Trump National Doral Miami resort enjoyed many of those videos.
One of these, "The Trumpsman," featured a digitized Trump shooting, stabbing and setting fire to such liberals—and even conservatives—as: 
Former President Bill Clinton

Former Vice President Joe Biden

Former Democratic Presidential candidate Hillary Clinton

Democratic Speaker of the House Nancy Pelosi

Former President Barack Obama

Vermont United States Senator Bernie Sanders

Utah Senator Mitt Romney

The late Arizona Senator John McCain
And legitimate news media—such as CBS, BBC, ABC, CNN, The New York Times and The  Washington Post—were also depicted as among Trump's victims.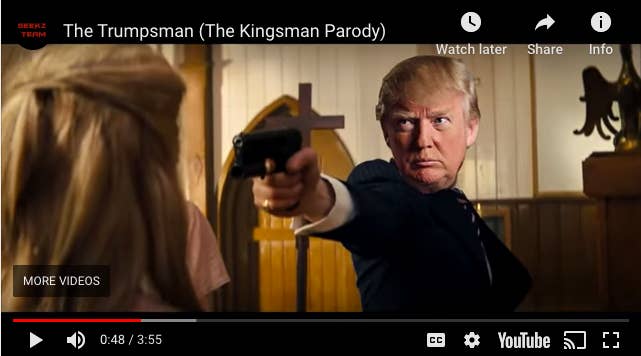 The video was produced by Rightists who believed it reflected what Donald Trump would do to his enemies if only he could get away with it. And given his near-constant calls for violence against his critics, they were absolutely correct.  
But the video's critics are wrong to call for its suppression.
On the contrary—it should be widely seen for what it is: The Mein Kampf of Donald Trump and his fanatical followers, in and outside the Republican party.
Like Adolf Hitler's autobiography, it depicts the future America can expect if the Right gains the power to live out its murderous fantasies. And the fantasy Right-wingers prize most: The brutal extermination of everyone who refuses to submit to their Fascistic tyranny.
"The Trumpsman" is part of a growing genre of pro-Trump memes that routinely earn thousands of views on sites like YouTube and Twitter. Many superimpose the faces of Trump and his chief supporters slaughtering Democrats, liberal celebrities and/or members of the media.
The event's organizer, Alex Phillips, hurriedly claimed that the "unauthorized video" was shown "in a side room" at the American Priority Conference.
But there is an upside to this exercise in Right-wing porn. Democrats could easily run TV ads showing limited clips from "The Trumpsman" video.
Unfortunately, the majority of Democrats lack the courage to attack their Right-wing enemies with the same ruthlessness used against them. That's why they lost most Presidential elections of the 20th century.
Americans should be constantly warned: These videos were not made by liberals to parody the values and goals of the Republican party and its Right-wing supporters.
These videos were made by Right-wingers—and reflect the true values and intentions of the Republican party and its Right-wing supporters. 
The boiler-plate rhetoric that gushes out of Republican conventions—about love of family, God and flag—is the public mask of the Right.
The videos that depict Right-wingers ruthlessly slaughtering anyone who dares to disagree with them reflect the real face of the Right.
Of course, most Americans never imagined that a President would:
Fire an FBI director for investigating Russian subversion of a Presidential election.

Openly call on a foreign enemy nation—China—to investigate his political rival for the White House.

Accuse his Congressional critics of treason—a crime punishable by death.
Trump's opponents should stop deluding themselves that: "Surely he'll never do that."
Whatever it is they fear he will do, he will do.
Like all predators, he will stop only when he meets a stronger opponent.