Who has not known men who discovered the truth about themselves only to be tortured by it for the rest of their lives? Is a man worse when he doesn't know who he is or when he learns he is truly a coward? When he is ignorant of his true nature or when he knows he is a traitor at heart? Not that I pity cowards or traitors. To the contrary: In a just world, they would all be made to face the hard truth about themselves before they died.
—James Carlos Blake, The Friends of Pancho Villa
Donald Trump's reign as President of the United States—and unofficial spokesman for Russian President Vladimir Putin—ended on January 20, 2021.
Yet his propagandists continue to deny what millions of Americans witnessed during the four years of his tenure in the White House.
One of these propagandists is Gregg Jarrett, author of The Russia Hoax: The Illicit Scheme to Clear Hillary Clinton and Frame Donald Trump (2018) and Witch Hunt: The Story of the Greatest Mass Delusion in American Political History (2019).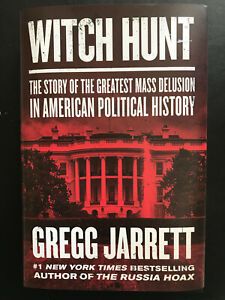 Jarrett is a Right-wing news commentator, author and attorney. He joined Fox News in 2002.  
"How did a small group of powerful intelligence officials convince tens of millions of Americans that the president is a traitor, without a shred of evidence?" he provocatively demands in the book's dust jacket. 
One need only read that dust jacket to answer the question—as Jarrett sees it:
"No marks have ever been as gullible as distraught Democrats in 2016. Washington insiders broke rule after rule investigating the president, chasing a conspiracy that turned out not to exist. Somehow this was spun into Donald Trump having something to hide. 
"People associated with the president were pushed into plea deals that had nothing to do with Russian "collusion" or discouraged from serving by the threat of huge legal bills. Somehow this was spun into Trump's lawyers being bullies.
"The president complained that the investigation was a waste of time, but he allowed it to continue unimpeded to the end. Somehow this was spun into obstruction of justice.
"In Witch Hunt, Gregg Jarrett uncovers the bureaucratic malfeasance and malicious politicization of our country's justice system. The law was weaponized for partisan purposes." 
Gregg Jarrett  
Gage Skidmore from Surprise, AZ, United States of America, CC BY-SA 2.0 <https://creativecommons.org/licenses/by-sa/2.0&gt;, via Wikimedia Commons
[NOTE: Trump's Justice Department secretly seized phone data from House Intelligence Committee Democrats, along with their staff and family members. The committee was investigating links between Trump's 2016 Presidential campaign and Russian Intelligence agents.
[The department's Inspector General is now investigating those seizures.
[It was Trump—not Democrats—who weaponized the law for partisan purposes.]
"Even though it was Hillary Clinton's campaign that collected and disseminated a trove of lies about Trump from a former British spy and Russian operatives, Democrats and the media spun this into a claim that Trump was working for the Russians.
"Senior officials at the FBI, blinded by their political bias and hatred of Trump, went after the wrong person. At the DOJ, the deputy attorney general discussed secretly recording the president and recruiting members of the cabinet to depose Trump." 
[NOTE: This occurred after Trump fired FBI Director James B. Comey for investigating reports that there had been close contacts between members of Trump's 2016 Presidential campaign and Russian Intelligence agents.]
"…What about the pundits who concocted wild narratives in real time on television, or the newspapers which covered the fact that rumors were being investigated without investigating the facts themselves?" 
[NOTE: When the press did investigate Trump's connections to Vladimir Putin, he retaliated with cries of "Fake news!" and secret Justice Department investigations of reporters.]
So much for Jarrett's fraudulent claims on Trump's behalf. 
On June 28, 2019, President Donald Trump demonstrated how seriously he took American election security. 
It came during a meeting with Putin in Osaka, Japan—their first since the March 22 release of the Mueller Report, which documented Russia's subversion of the 2016 Presidential election.
An NBC News reporter asked: Would you tell Putin not to meddle in the 2020 Presidential election?
"Yes, of course I will," replied Trump, grinning. "Don't meddle in the election, please."
And he jokingly wagged his finger at Putin: "Don't meddle in the election." 
Putin grinned back.
Donald Trump
Trump has repeatedly claimed that there was "no collusion" between him and members of Russia's Intelligence community. But the damning facts speak otherwise.  
TREASON EXAMPLE #1: On July 9, 2016, high-ranking members of his Presidential campaign met at Trump Tower with at least two lobbyists who had ties to Russian dictator Vladimir Putin. The participants included:
Trump's son, Donald Trump Jr.;

His son-in-law, Jared Kushner;

His then-campaign manager, Paul Manafort; 

Natalia Veselnitskaya, a Russian lawyer with ties to Putin; and 

Rinat Akhmetshin, a former Soviet counterintelligence officer suspected of having ongoing ties to Russian Intelligence.
The purpose of that meeting: To gain access to any "dirt" Russian Intelligence could supply on Democratic Presidential nominee Hillary Clinton. 
Trump originally claimed that the meeting was "about the adoption of Russian children." Eventually he admitted that it had been "a meeting to get information on an opponent." 
[NOTE: So much for Gregg Jarrett's claim: "Somehow this was spun into Donald Trump having something to hide."]