There is more in common between Donald Trump and King Henry VIII than at first might seem possible.           
And the 1969 movie, "Anne of the Thousand Days," brings it vividly to light.   
Throughout much of the film, Henry (Richard Burton) lusts to romantically—and sexually—capture the beautiful Anne Boleyn (Geneviève Bujold). The fact that he's married to Catherine of Aragon matters not at all.
Henry justifies his infidelity on the fact that Catherine has failed to give him a male heir.
He's been having an affair with Anne's younger sister, Mary, but is now bored with her. The fact that she's now pregnant with his child matters not at all, either.
He first notices Anne, 18, at a court ball. She's engaged to the son of the Earl of Northumberland, and they have received their parents' permission to marry. But Henry is enraptured with Anne's beauty and orders his Lord Chancellor, Cardinal Wolsey, to break the engagement.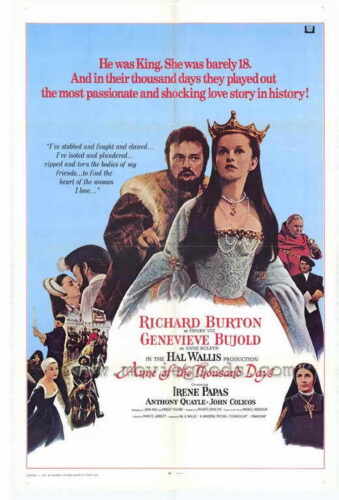 Anne is furious, and blames both Henry and Wolsey for ruining her happiness. But as the King's infatuation continues, she becomes intoxicated with the power it brings her. 
Henry presses Anne to become his mistress. But she says she won't bear an illegitimate child. Desperate to have a son, Henry decides to divorce Catherine and marry Anne.
For Anne, it's the ultimate seduction, and she agrees. She's ordained as Queen, but is popularly reviled by the supporters of Catherine.
Months later, Henry is dismayed when Anne gives birth to a daughter, Elizabeth—who will eventually become Queen after Henry's death.
Henry turns his always-wandering eye to Jane Seymour, one of Anne's maids. Anne banishes Jane from the court. 
Henry VIII
Anne is furious that Sir Thomas More, the King's Chancellor, opposes Henry's divorce from Catherine. She refuses to sleep with Henry unless he executes More.
Anne gets her wish: More is beheaded. But her next child—a boy—is stillborn.
By now, Henry is convinced Anne will never be able to give him a male heir. He schemes to divorce her and marry Jane. He contrives with his new chief minister, Thomas Cromwell, to have Anne falsely charged with infidelity.
At her trial, Anne vigorously defends herself, proving that the witnesses against her are lying.
In a private meeting with her, Henry offers to free her if she'll agree to annul their marriage. Since this will make Elizabeth illegitimate, Anne refuses—and goes courageously to her death 
Throughout the movie, Englishmen from Henry on down are convinced that England will collapse if a woman ascends the throne.
And, of course, England not only survives but thrives under the 45-year reign of Queen Elizabeth.
Which brings us to Donald Trump.
Like Henry, Trump is a man of voracious appetites—for wealth, for fame, for sex. Like Henry, he is untroubled by scruples and will commit any crime to attain whatever he wants. Like Henry, he is a man of fierce temper—always eager to crush anyone he thinks has wronged him.
Donald Trump 
Countless Englishmen who lived under Henry thought England would collapse if a woman took the throne.
Now countless Americans believe the United States will collapse if a former President is brought to trial.
On March 30, Trump was indicted by a New York grand jury. He thus became the first current or former President to face criminal charges.
On April 1, CNN reported/editorialized:  "Former President Donald Trump's indictment….has thrust the nation into uncharted political, legal and historical waters, and raised a slew of questions about how the criminal case will unfold. 
"The Manhattan district attorney's office has been investigating Trump in connection with his alleged role in a hush money payment scheme and cover-up involving adult film star Stormy Daniels that dates to the 2016 Presidential election."
Trump has attacked Manhattan District Attorney Alvin Bragg as pursuing a leftist vendetta to prevent him from running for President in 2024.
"If they can do this to me," he has thundered in countless fund-raising appeals to his Right-wing followers, "they can do this to you." 
Which raises the question: "How many others have tried to illegally overturn a legitimate Presidential election and/or paid hush-money to a porn 'actress'?"
Trump has repeatedly tried to appear the victim of "a Democratic-led witch hunt." But if politics has tainted the dispensing of justice in Trump's case, it's been on his behalf.    
As President, he had immunity from civil and criminal lawsuits. He couldn't be tried at local, state and federal levels. And he had good reason to avoid facing trial at any level.  Among the cases facing him while he held office:
The Manhattan District Attorney's criminal case against the Trump Organization for tax evasion.
The New York Attorney General's civil investigation into the Trump Organization for fraud.
The E. Jean Carroll defamation lawsuit (he called her a liar after she claimed he raped her in the 1990s). 
The Mary Trump lawsuit: His niece is suing him for allegedly defrauding her out of millions of dollars.
The Trump Tower lawsuit: Five people claim that Keith Schiller, the Trump Organization's then chief of security, hit one of them on the head when they were protesting outside of the company's Manhattan headquarters in 2015.