The two most murderous tyrants in the twentieth century—Joseph Stalin and Adolf Hitler—received unexpected cooperation from their victims.          
Confronted with the titanic crimes of their persecutors, millions of otherwise intelligent men and women couldn't believe anyone—even Stalin or Hitler—could be so diabolically evil.
Millions of Jews knew that Hitler had made them pariahs in their own country, subject to arrest and deportation to eastern ghettos. Yet they refused to believe he intended to exterminate every trace of European Jewry. 
Adolf Hitler
Similarly, millions of Russians knew that, under Stalin, untold numbers of innocent men and women had been arrested and much of Ukraine had been condemned to starvation through his forced collectivization policies. Yet they refused to believe that Stalin was responsible for this. 
Surely, they felt, it was those around Stalin—such as Lavrenti P. Beria, the notorious chief of the secret police, the NKVD—who were responsible for such horrific crimes. "They don't tell Stalin," went the pathetic cry.
Joseph Stalin
But Russia and Germany are not the only countries where people refuse to accept the bitter truth about their leaders.
The vast majority of Americans believe that the United States is an "exceptional" nation whose leaders are guided by God. Mormons, for example, believe that the Constitution is a divinely-inspired document. 
Thus, most Americans reject the idea that American politicians—especially those on the Right—could ever indulge in the sort of corruptions and atrocities of other world leaders.
On January 11, Iowa House Republicans introduced a bill to drastically eliminate the types of food available to people using the Supplemental Nutrition Assistance Program (SNAP).
Run by the U.S. Department of Agriculture, SNAP provides food assistance to more than 41 million people with low or no income.
Under the proposed restrictions, the following staples would be forbidden:
Fresh meats

Flour

Butter

Cooking oil

Frozen prepared foods

Baked, refried or chili beans 

Sliced, cubed or crumbled cheese 

Salt

Pepper

Canned 

vegetables

Fruit

Soup
In lieu of fresh meats, Iowans would only be allowed to buy canned tuna or salmon. 
The bill would also make it harder for needy persons to qualify for SNAP.
Families would be barred if they had more than $2,750, or $4,250 if someone with a disability or over the age of 60 lives in their family.
Ownership of only one vehicle would be allowed, thus excluding families with two cars.
"It's almost like we're trying to make sure that these people don't get ahead," said state Rep. Beth Wessel-Kroeschell. "I think the job of SNAP is to try and lift people up while they're down and try and help them get ahead, not take away what they already have, what little they have."
Iowa House Speaker Pat Grassley—who sponsored the bill—complained: "It's these entitlement programs. They're the ones that are growing within the budget and are putting pressure on us being able to fund other priorities." 
Pat Grassley
Those "other priorities" ignore the sharp rise in grocery prices owing to the conflict in Ukraine, climate change, the deadliest bird flu in American history, transportation costs and alleged supply chain disruptions. 
Iowa isn't alone in targeting SNAP. The GOP is doing so at a national level. 
And yet there are those, even among the most ardent opponents of the proposed bill, who can't believe the worst of the men supporting it.   
One of these is Luke Elzinga, chair of the Iowa Hunger Coalition. 
"I don't think the 39 co-sponsors of this bill know just how restrictive this is, and that it would ban meat," he said. "Under this bill, no ground beef, no chicken, no pork in the state of Iowa. I just can't believe that they knew that was what it was when the bill was introduced." 
Of course they knew. That's why they're fiercely supporting this legislation.
Their support is grounded in history—the history of Nazi Germany.
On June 22, 1941, German Fuhrer Adolf Hitler sent three million soldiers smashing into the Soviet Union. During the first six months—June to December, 1941—German armies lured huge Soviet forces into gigantic "cauldron battles," surrounding and exterminating them. 
An estimated 5.7 million prisoners of war fell into German hands. The Germans found themselves surprised and overwhelmed by the sheer numbers of them. But their mandate demanded that they keep marching ever forward.
So they simply imprisoned their captives behind barbed wire and wasted no food or medical care on them. Between starvation, illness and the brutal Russian cold, at least 3.5 million POWs died in captivity.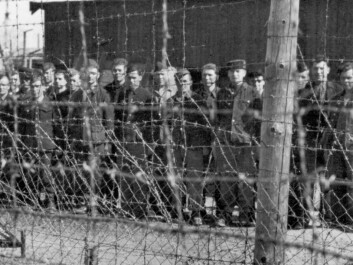 Soviet POW's
Republicans have learned a valuable lesson from this: If you simply deprive those you detest of food, clothing, shelter—and medical care—you don't need gas chambers or firing squads. Or rigged vote-counts.
That's why, to this day, Republicans are still trying to abolish "Obamacare"—the Affordable Care Act.
Yet Democrats are too naive and/or cowardly to publicly admit this.
Ironically, Democrats could learn a lesson from Ronald Reagan, who dared brand the Soviet Union as "an evil empire."
His description of Soviet leaders now applies to those of his own party: "The only morality they recognize is what will further their cause, meaning they reserve unto themselves the right to commit any crime, to lie, to cheat."