American Intelligence officials have told The New York Times and the Associated Press that Russia secretly offered bounties to Taliban-linked militants for killing American troops in Afghanistan.
In early 2020, members of the elite SEAL Team Six raided a Taliban outpost and recovered roughly $500,000 in American cash. The recovered funds led the American intelligence community to believe that the government of Vladimir Putin had offered money to Taliban militants to kill American soldiers in Afghanistan.
Additional confirmation came from the interrogations of captured militants and criminals. As early as January, the SEALS in Afghanistan alerted their superiors of this danger.
President Donald Trump—who receives Intelligence from a wide range of military and civilian agencies—claims he wasn't briefed on these Intelligence assessments. He made his denial through White House Press Secretary Kayleigh McEnany: The information had not been "verified."
This despite the fact that every morning he receives the President's Daily Briefing, a top-secret document containing highly classified Intelligence analysis.
In fact, the Intelligence assessment has been under discussion within the Trump administration since at least March.
TREASON EXAMPLE #9
From the outset, Trump has acted like a guilty man desperate to stop an investigation before it uncovers the full extent of his criminality and treason. 
TREASON EXAMPLE #9
TREASON EXAMPLE #1 On July 9, 2016, high-ranking members of his Presidential campaign met at Trump Tower with at least two lobbyists who had ties to Russian dictator Vladimir Putin. The participants included:
Trump's son, Donald Trump Jr.;

His son-in-law, Jared Kushner;

His then-campaign manager, Paul Manafort; 

Natalia Veselnitskaya, a Russian lawyer with ties to Putin; and 

Rinat Akhmetshin, a former Soviet counterintelligence officer suspected of having ongoing ties to Russian Intelligence.
The purpose of that meeting: To gain access to any "dirt" Russian Intelligence could supply on Democratic Presidential nominee Hillary Clinton. 
Trump originally claimed that the meeting was "about the adoption of Russian children." Eventually he admitted that it had been "a meeting to get information on an opponent."
Donald Trump
TREASON EXAMPLE #2 On July 22, 2016, Wikileaks released 19,252 emails and 8,034 attachments hacked from computers of the highest-ranking officials of the Democratic National Committee (DNC). Early reports traced the leak to Russian hackers. 
On July 27, 2016, during his campaign for President, Trump said at a press conference in Doral, Florida: "Russia, if you are listening, I hope you are able to find the 33,000 emails that are missing [from Democratic Presidential candidate Hillary Clinton's computer]. I think you will probably be rewarded mightily by our press."
This was nothing less than treason—calling upon a foreign power, hostile to the United States, to interfere in its Presidential election.
Hours later, the Main Intelligence Directorate in Moscow targeted Clinton's personal office and hit more than 70 other Clinton campaign accounts. 
Clinton Watts is a consultant and researcher on cyberwarfare. He has served as
An FBI Special Agent on a Joint Terrorism Task Force (JTTF);

The Executive Officer of the Combating Terrorism Center at West Point (CTC); and

A consultant to the FBI's Counter Terrorism Division (CTD) and National Security Branch (NSB). 
In a statement he prepared for the U.S. Senate Select Committee on Intelligence, Watts outlined cyberwarfare measures that Russia used to subvert the 2016 Presidential campaign. 
He delivered this on March 30. 2017. Part of this reads as follows: 
Through the end of 2015 and start of 2016, the Russian influence system….began pushing themes and messages seeking to influence the outcome of the U.S. Presidential election.
Russia's overt media outlets and covert trolls sought to sideline opponents on both sides of the political spectrum with adversarial views toward the Kremlin. The final months leading up to the election have been the predominate focus of Russian influence discussions to date.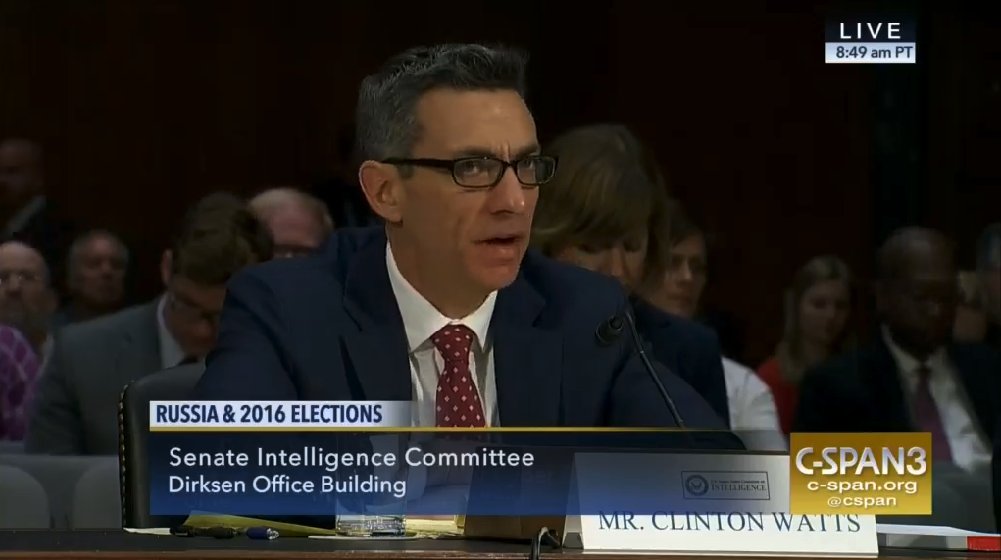 Clinton Watts
However, Russian Active Measures were in full swing during both the Republican and Democratic primary season and may have helped sink the hopes of candidates more hostile to Russian interests long before the field narrowed. 
The final piece of Russia's modern Active Measures surfaced in the summer of 2016 as hacked materials from previous months were strategically leaked.
On 22 July 2016, Wikileaks released troves of stolen communications from the Democratic National Committee and later batches of campaign emails. Guccifer 2.0 and DC Leaks revealed hacked information from a host of former U.S. government officials throughout July and August 2016.
For the remainder of the campaign season, this compromising material powered the influence system Russia successfully constructed in the previous two years.
TREASON EXAMPLE #3 Throughout 2016, the CIA, FBI and National Security Agency (NSA) found numerous ties between officials of the Trump Presidential campaign and Russian Intelligence agents.  
And many of those Trump appointed to office had strong ties to the government of Russian President Vladimir Putin.
One of these was Secretary of State Rex Tillerson. In 2013, as the chief executive of ExxonMobil, he was presented with Russia's Order of Friendship award. He had just signed deals with the state-owned Russian oil company Rosneft. Its chief, Igor Sechin, is a loyal Putin lieutenant.
Rex Tillerson