On June 22, 1941, German Fuhrer Adolf Hitler sent three million soldiers smashing into the Soviet Union. During the first six months—June to December, 1941—German armies lured huge Soviet forces into gigantic "cauldron battles," surrounding and exterminating them. 
An estimated 5.7 million prisoners of war (POWs) fell into German hands. The Germans found themselves surprised and overwhelmed by the sheer numbers of them. But their mandate demanded that they keep marching forward—ever forward.
So they simply imprisoned their captives behind barbed wire and wasted no food or medical care on them. Between starvation, illness and the brutal Russian cold, at least 3.5 million POWs died in custody.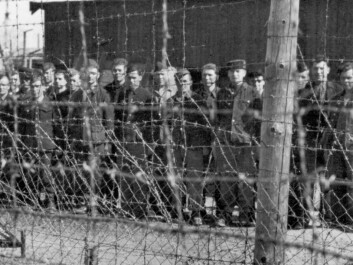 Soviet POW's
Republicans have learned a serious lesson from this. If you simply deprive those you detest of food, clothing and shelter, you don't need gas chambers or firing squads.
That has been their chief reason for opposing Social Security since President Franklin D. Roosevelt signed it into law in 1935.
That is why they opposed President Lyndon B. Johnson when he pushed Medicare through Congress in 1965.
And that is why they have fervently tried to overturn the Affordable Care Act—better known as Obamacare—since it went into effect in 2010.
Of course, Republicans will never admit this. Their mantra has always been they fear such programs will bankrupt the country.
That claim might have credibility—if they didn't recklessly plunge into budget-busting wars like the 2003 Iraq war started by President George W. Bush. Not a single Republican opposed this needless, bloody conflict—which has cost the United States more than $1.1 trillion.
But the best evidence of Republicans' desire to use illness as a weapon against those Americans they hate comes from President Donald J. Trump. 
Donald Trump
On March 26, during an interview on Fox News, Trump blamed the failures of his administration's response to Coronavirus on Democratic state governors like Andrew Cuomo (NY), Jay Inslee (WA), and Gretchen Whitmer (MI).
On March 27, during his press briefing, Trump said he told Vice President Mike Pence—who's officially in charge of the White House's response effort—to not call Inslee and Whitmer because they weren't "appreciative" enough of his efforts.
Trump said this even as hospitals in each of their states were being overwhelmed with Coronavirus patients.
"I tell him—I mean I'm a different type of person— I say, 'Mike, don't call the governor in Washington, you're wasting your time with him. Don't call the woman in Michigan,'" Trump said. "If they don't treat you right, I don't call."
Trump said that when people criticized him, they were criticizing the federal government: "When they're not appreciative to me, they're not appreciative to the Army Corps, they're not appreciative to FEMA.  It's not right."
Trump also attacked Whitmer on Right-wing Fox News' "Sean Hannity Show": "I don't know if she knows what's going on, but all she does is sit there and blame the federal government."
That same day—March 27—Whitmer told a Michigan radio station: "What I've gotten back is that vendors with whom we've procured contracts—they're being told not to send stuff to Michigan. It's really concerning. I reached out to the White House last night and asked for a phone call with the president, ironically at the time this stuff was going on."
Gretchen Whitmer
Julia Pickett / CC BY-SA (https://creativecommons.org/licenses/by-sa/4.0)
A March 29 story in the Washington Monthly sheds light on what lay behind Whitmer's inability to secure desperately-needed ventilators from her longtime vendors. Its headline ran: "What If Trump Decides to Save Republicans But Not Democrats?"
And it was followed by a sub-headline: "He's providing vital resources to red states and ignoring blue states."
Florida submitted a request to the Federal Emergency Management Agency  on March 11 for 430,000 surgical masks, 180,000 N95 respirators, 82,000 face shields and 238,000 gloves—and received a shipment with everything three days later.
It received an identical shipment on March 23, and is awaiting a third.
In 2019, Trump demanded a "favor" from the embattled Ukrainian President Volodymyr Zelensky—"dirt" on Democratic Presidential candidate Joe Biden—in return for releasing military aid Ukraine needed to combat an increasingly aggressive Russia.
Now he is apparently demanding Democratic governors praise him and blame themselves if they want their citizens to receive desperately-needed medical supplies.
On Fox News, Rudy Giuliani, Trump's personal lawyer, bluntly told governors: "Take the blame when you have to. When you play with your boss, sometimes it's better when you don't win the golf game. He's the boss, he's got all the resources." 
This is precisely the dictatorial arrogance of which Republicans falsely accused President Barack Obama.
The Washington Monthly story concludes on an ominous note: "What if the White House simply gives all the masks and ventilators to red states and counties, leaving blue ones to struggle? What mechanisms of accountability are left?
"U.S. democracy wasn't set up to deal with a president openly behaving like a James Bond villain while being protected by a political party behaving more like a mafia than a civic institution."