Clinton Watts is a consultant and researcher on cyberwarfare. He has served as
A U.S. Army infantry officer;

An FBI Special Agent on a Joint Terrorism Task Force (JTTF);

The Executive Officer of the Combating Terrorism Center at West Point (CTC); and

As a consultant to the FBI's Counter Terrorism Division (CTD) and National Security Branch (NSB).
In a statement he prepared for the U.S. Senate Select Committee on Intelligence, he outlined cyberwarfare measures that Russia used to influence the 2016 Presidential campaign.
He delivered this on March 30. Part of this reads as follows:
Through the end of 2015 and start of 2016, the Russian influence system….began pushing themes and messages seeking to influence the outcome of the U.S. Presidential election.
Russia's overt media outlets and covert trolls sought to sideline opponents on both sides of the political spectrum with adversarial views toward the Kremlin. The final months leading up to the election have been the predominate focus of Russian influence discussions to date.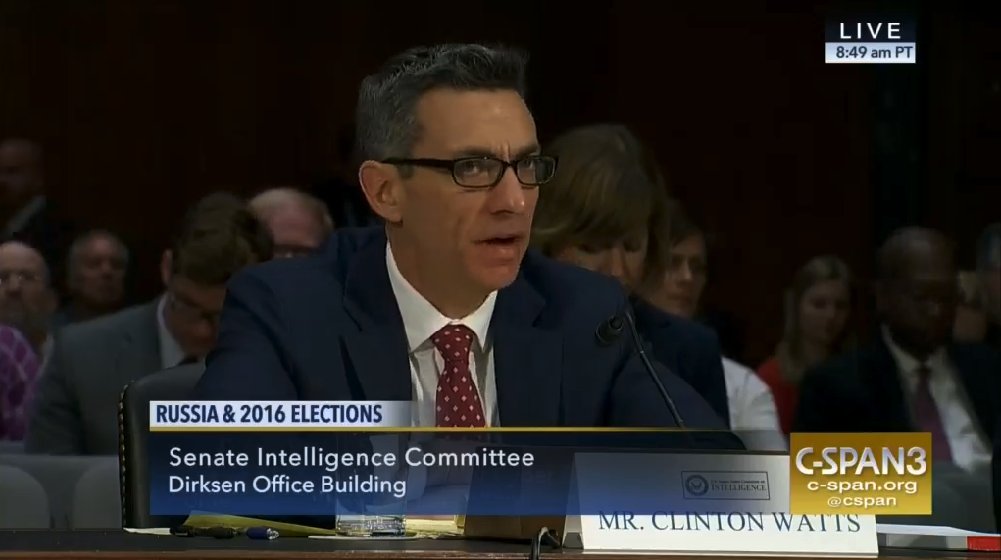 Clinton Watts
However, Russian Active Measures were in full swing during both the Republican and Democratic primary season and may have helped sink the hopes of candidates more hostile to Russian interests long before the field narrowed.
The final piece of Russia's modern Active Measures surfaced in the summer of 2016 as hacked materials from previous months were strategically leaked.
On 22 July 2016, Wikileaks released troves of stolen communications from the Democratic National Committee and later batches of campaign emails. Guccifer 2.0 and DC Leaks revealed hacked information from a host of former U.S. government officials throughout July and August 2016.
For the remainder of the campaign season, this compromising material powered the influence system Russia successfully constructed in the previous two years.
Meanwhile, Donald Trump–as both Presidential candidate and President–has steadfastly refused to acknowledge the efforts of Vladimir Putin's government to ensure his election.
Consider his exchange about this with Democratic Presidential nominee Hillary Clinton during the third and final Presidential debate on October 19, 2016:
CLINTON: So I actually think the most important question of this evening, Chris, is, finally, will Donald Trump admit and condemn that the Russians are doing this and make it clear that he will not have the help of Putin in in this election, that he rejects Russian espionage against Americans, which he actually encouraged in the past?
Those are the questions we need answered. We've never had anything like this happen in any of our elections before.
CHRIS WALLACE: Well?
TRUMP: That was a great pivot off the fact that she wants open borders, OK? How did we get on to Putin?
[After insisting that Clinton wants "open borders" and "people are going to pour into this country," Trump deigned to address Wallace's question.]
TRUMP: Now we can talk about Putin. I don't know Putin. He said nice things about me.
If we got along well, that would be good. If Russia and the United States got along well and went after ISIS, that would be good. He has no respect for her. He has no respect for our president.
And I'll tell you what: We're in very serious trouble, because we have a country with tremendous numbers of nuclear warheads–1,800, by the way–where they expanded and we didn't, 1,800 nuclear warheads. And she's playing chicken.
FROM WATTS' STATEMENT: This pattern of Russian falsehoods and social media manipulation of the American electorate continued through Election Day and persists today.
Many of the accounts we watched push the false Incirlik story in July now focus their efforts on shaping the upcoming European elections, promoting fears of immigration or false claims of refugee criminality.
They've not forgotten about the United States either. This past week, we observed social media campaigns targeting Speaker of the House Paul Ryan hoping to foment further unrest amongst U.S. democratic institutions, their leaders and their constituents.
As we noted two days before the Presidential election in our article describing Russian influence operations, Russia certainly seeks to promote Western candidates sympathetic to their worldview and foreign policy objectives.
But winning a single election is not their end goal. Russian Active Measures hope to topple democracies through the pursuit of five complementary objectives:
Undermine citizen confidence in democratic governance;
Foment and exacerbate divisive political fractures;
Erode trust between citizens and elected officials and democratic institutions;
Popularize Russian policy agendas within foreign populations;
Create general distrust or confusion over information sources by blurring the lines between fact and fiction.
From these objectives, the Kremlin can crumble democracies from the inside out creating political divisions resulting in two key milestones:
The dissolution of the European Union and
The break up of the North American Treaty Organization (NATO).
FROM THE TRUMP-CLINTON DEBATE:
TRUMP: … from everything I see, [Putin] has no respect for this person.
CLINTON: Well, that's because he'd rather have a puppet as president of the United States.
TRUMP: No puppet. No puppet.
CLINTON: And it's pretty clear…
TRUMP: You're the puppet!
CLINTON: It's pretty clear you won't admit…
TRUMP: No, you're the puppet.