In San Francisco, rents are so high that most of the city's firefighters, police officers and school teachers can't afford to live there.
Yet the Mayor and Board of Supervisors are spending $300 million a year to ensure that drug addicts, alcoholics, mentally ill and outright bums can do so.
Yes, welcome to San Francisco—home of cable cars, Ghirardelli Square and the Golden Gate Bridge.
And, oh, yes—and thousands of stinking, disease-ridden, lice/bedbug-infested, drug-addicted, alcohol-soaked, often psychotic men and women whom city officials politely refer to as "the homeless."
Thanks to its mild climate and social programs that dole out cash payments to virtually anyone with no residency requirement, San Francisco is often considered the homeless capital of the United States.
Current estimates peg the homeless population of San Francisco at about 7,500. And it hasn't changed much during the last 10 years.
In 2019, a survey found that an estimated 2,831 members of this population were sheltered. Another 5,180 were unsheltered. This made for a total of 8,011.
The vast majority of them fall into four groups:
Drug-abusers

Drunks

Mentally ill

Bums.
Or, to put it more discretely: DDMBs.
Many DDMBs refuse to enter the city's available shelters. Some claim these places are dangerous—understandably so, since they're peopled with drug addicts, alcoholics, mentally ill and outright bums.
But another reason why many of these shelters go unused is: They don't allow their guests to drink up or drug up.
The city's 2020–21 budget for the Department of Homeless and Supportive Housing is about $852 million. 
Dividing that amount by 8,011 provides the figure of $106,353 per DDMB.
Yet mere statistics don't capture the true intensity of the problem. To do that, you must confront its realities at the street level.
One of those realities can be seen every Sunday, when many stores on Market Street close for lack of workday traffic. Stroll along the street and you'll find it crowded with passed-out drunks/druggies, ranting psychotics and aggressive panhandlers.
Another such reality was Suzie Wong, who went by the name Ling Ling.  A resident of the Nob Hill District, Wong daily gave residents and tourists a sight to remember her by.
She alighted from the 27 Bryant bus from the Mission and halted at the nearby bus stop. Then she dropped her drawers to leave a yellow or brown deposit on the sidewalk. Finally, she crossed the street, and caught the 1 California bus for Chinatown.
When she didn't relieve herself on Nob Hill, she often did so on Stockton Street in Chinatown. Then she headed to her usual spot to panhandle.
Children and pets often stepped in her feces. So did adults, who were preoccupied with their cell phones. 
Parents vainly tried to shield their kids from the disgusting sight. Residents lodged scores of complaints about Wong's repeated defecations.  
The Department of Public Works sent crews to clean up her messes countless times. Police repeatedly scooped up Wong for a 5150 involuntary psychiatric hold at San Francisco General Hospital. 
But doctors usually released her before the cops even get back to the station.
Under a 5150 designation, people can be held at the hospital for up to 72 hours to determine:
Are they gravely disabled?

Are they mentally ill?

If they are mentally ill, do they pose a danger to themselves or others? 
But authorities repeatedly determined that Wong didn't fit any of these criteria. The reasons:
She had a mental health care worker at a North Beach clinic.

She had arranged housing and food services throughout the city.

She could use public transit. 
Chalk up another win for the DDMBs.
And this despicable behavior is repeated countless times by other DDMBs throughout the city.
San Francisco officials have effectively washed their hands (if not the streets) of the problem. If local residents must put up with repeated violations of the most basic sanitation laws, that's their tough luck.
What matters to the Mayor and Board of Supervisors is this: The "rights" of those whose filth poses an immediate threat to public health take precedence over those of tax-paying, law-abiding San Franciscans.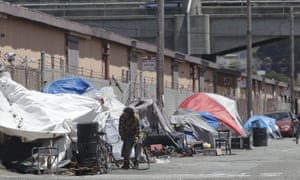 During the Mayorship of Willie Brown (1996 – 2004), Hizzonor proposed what he thought was a brilliant way for residents to "contribute" to street people. Those who were somehow certified as "homeless" would be issued special electronic "cash cards."
When someone wanted to make a "donation," s/he would swipe a credit card against the one owned by the street bum, for whatever amount s/he wanted to donate.
But before the program started, someone at City Hall realized a blunt truth: Residents—especially women—weren't likely to whip out their credit cards in front of a ranting, foul-smelling, probably disease-ridden street bum. 
San Francisco residents can be fined $45 to $300 for feeding pigeons—but not for giving money to street bums.
In 2010, San Francisco voters overwhelmingly passed the "No Sit/No Lie" ordinance, which "makes it unlawful, with certain exceptions, to sit or lie on a public sidewalk, or on an object placed on a public sidewalk, between 7AM and 11PM."
It also prohibited sleeping in public parks at night and building encampments.
And was it enforced?  Not in DDMB-loving San Francisco.
So much for the will of tax-paying voters.