Officers of the San Francisco Police Department (SFPD) wear a shoulder patch bearing the motto, "Oro en Paz, Fierro en Guerra"—"Gold in peace, Iron in war."
But for many San Franciscans, the true motto of the SFPD should be "You're on your own."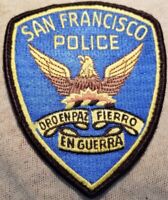 A friend of mine named Dave [not his real name] who lives in San Francisco, offers the following case:
"On August 7, 2017, I witnessed a brutal assault on a friend of mine named Hal [not his real name]. I was a passenger in his car as he waited for a parking space to open in front of the apartment building where we both live.
"A man—clearly in an agitated state—approached the driver's side and accused Hal of using the wrong signal. After hearing him out, Hal asked him to back away. Instead, the man quickly began striking Hal in the face at least a half dozen times."
Dave got out on the passenger's side and threatened to call police. The assailant returned to his Jeep Cherokee truck, which was parked right behind Hal's car. Dave re-entered Hal's car and thought that the worst was over.
Suddenly the Jeep Cherokee slammed into the rear of Hal 's car. Then the driver pulled out.
"Hal started his car and followed the Jeep Cherokee to get a photo of its license plate. Using his iPhone, he did. The truck continued a short distance forward, then suddenly reversed and slammed into the front of Hal's car. The driver then roared off.
"Hal and I then drove to the SFPD's Central Station, where we both filled out statements and spoke individually with an officer. In addition, Hal provided a photo of the license plate of the vehicle that had rammed him.
"After that, Hal and I waited for a response from the SFPD. We never received one.
In early November, 2017—after waiting three months for a police response—Dave called the SFPD and arranged an appointment with a sergeant at Central Station.
"She showed me a series of photos that seemed to resemble the man who had assaulted Hal. Frankly, I had caught only a brief glimpse of the man when I exited Hal's car and saw him heading for his Jeep. It certainly didn't help that, three months later, I was now being asked to give an accurate description of him.
Later, Dave learned that the SFPD had chosen to not pursue criminal charges against the assailant. No reason was given for this decision. 
In January, 2018, Dave filed a complaint with the SFPD's Department of Police Accountability (DPA), formerly known as its Internal Affairs Division.
The investigator he met with was friendly and concerned. Even so, his complaint didn't lead the SFPD to pursue criminal charges against the assailant. Again, no reason was offered by the agency.
"In November, 2018, I received a Complainant Satisfaction Survey from the SFPD's Department of Police Accountability. But its Q&A format didn't let me address the issues I thought important."  
To do so, on November 26, he sent back a memo, offering the following summation: 
A man commits assault and battery on another without the slightest provocation.

He then uses his Jeep Cherokee to ram the rear of his victim's car.

He then uses his Jeep Cherokee to ram the front of his victim's car.

These violations of criminal law are reported to the SFPD within an hour of their occurrence.They are reported by not one but two eyewitnesses/victims.

One of those eyewitnesses provides the SFPD with a photo of the license plate of the car used in the vehicular assaults.

The SFPD makes no effort to contact either witness/victim in this incident.

Despite being provided with all this evidence, the SFPD does NOTHING.
And he concluded his indictment: 
"I have nothing but contempt for [the SFPD's] refusal to take even a cursory interest in this case.
"If a friend of mine became the victim of a crime, I would advise him: 'Don't waste your time contacting the SFPD. There is simply no reason to set yourself up for a double injury—the first one inflicted by the criminal, and the second one inflicted by the criminally negligent SFPD.'"
San Francisco Hall of Justice
Dllu [CC BY-SA 4.0 (https://creativecommons.org/licenses/by-sa/4.0)%5D, from Wikimedia Commons
To his surprise, Dave received a letter from the DPA, dated December 13, 2018:
"Your Request for an Investigative Hearing in the above-captioned case has been received. We have reviewed the investigative file and have determined that the facts and circumstances supported the DPA's findings.  
"More specifically, we reviewed your letter dated December 5, 2018. The DPA strongly recommends that you call and make an appointment with your investigator in your case at (415) ###-#### to discuss our finding(s).
"We understand that you may not agree with our finding(s), but it may be of some use to contact the investigator for better clarity and understanding in this matter.  
"Your Request for Investigative Hearing is therefore denied. Thank you for the time you took to ensure that the DPA understood your concerns. We view this as a positive step in keeping with the goals of the DPA."
And it was signed by Paul David Henderson, the agency's executive director.