While Adolf Hitler ruled Germany from 1933 to 1945, "the persuasive influence of the Nazi regime reached into every corner of everyday life in Germany."
So reads the paperback cover of Richard Grunberger's classic 1971 book, The 12-Year Reich.
"Censorship prevailed, education was undermined, family life was idealized, but children were encouraged to turn in disloyal parents.
"'Volk' festivals, party rallies, awards, uniforms, pageantry all played a part in the massive effort to shape the mind of a nation."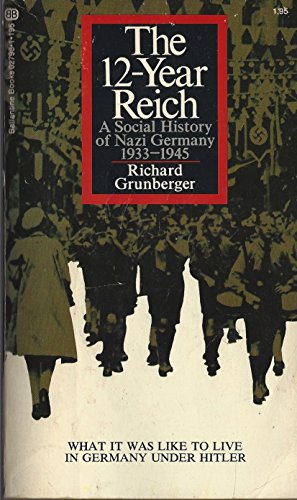 And yet, after the Reich surrendered unconditionally to the Allies on May 8, 1945, a strange thing happened: Virtually no one in Germany admitted to having been a Nazi—or having even known one.
As for who was responsible for losing the war itself: As far as most Germans were concerned, that blame fell entirely on the man they had once worshiped as Der Fuhrer. If he had just let his brilliant generals run operations, Germany would have triumphed.
In short: Adolf Hitler had lost the war he started—making him a loser nobody wanted to be identified with.
In the decades since, the "loser" tag has continued to stick with those who once served the Third Reich. Mel Brooks has repeatedly turned German soldiers—once the pride of the battlefield—into idiotic comic foils.
Even the fearsome Gestapo was spoofed for laughs on the long-running TV comedy, "Hogan's Heroes."
"Hogan's Heroes"
"Americans love a winner," George C. Scott as George S. Patton says at the outset of the classic 1970 movie. "And will not tolerate a loser."
And that is why Republicans have stuck so closely with President Donald J. Trump.
A typical example of this occurred on June 8, 2017, after former FBI director James Comey testified before the United States Senate Select Committee on Intelligence.
Comey revealed that, on February 14, Trump had ordered everyone but Comey to leave a crowded meeting in the Oval Office.
"I want to talk about Mike Flynn," said Trump.
Flynn had resigned the previous day from his position as National Security Adviser. The FBI was investigating him for his previously undisclosed ties to Russia.
"I hope you can see your way clear to letting this go, to letting Flynn go," said Trump. "He is a good guy. I hope you can let this go."
This was clearly an attempt by Trump to obstruct the FBI's investigation.
Yet Republican House Speaker Paul Ryan rushed to excuse his clearly illegal behavior: "He's new at government, so therefore I think he's learning as he goes."
Paul Ryan
Republicans don't fear that Trump will trash the institutions that Americans have cherished for more than 200 years. Institutions like an independent judiciary, a free press, and an incorruptible Justice Department.
He has already attacked all of these—and Republicans have either said nothing or rushed to his defense.
And despite Trump's repeated threats to fire Special Counsel Robert Mueller, Republicans have refused to enact any safeguards to prevent this. In fact, if Trump did so, it's doubtful that most Republicans would vote to impeach and convict him.
The reason: They fear losing the support of his fanatical base—even if it constitutes only 36% of all registered voters.
At the same time, Republicans fear that Trump will finally cross one line too many. And that the national outrage following this will force them to launch impeachment proceedings against him.
But it isn't even Trump they fear will be destroyed.
What they most fear losing is their own hold on nearly absolute power in Congress and the White House.
If Trump is impeached and possibly indicted, he will become a man no one any longer fears. He will be a figure held up to ridicule and condemnation.
Like Adolf Hitler. Like Richard Nixon.
And his Congressional supporters will be branded as losers along with him.
Republicans vividly remember what happened after Nixon was forced to resign on August 9, 1974: Democrats, riding a wave of reform fever, swept Republicans out of the House and Senate—and Jimmy Carter into the White House.
Thus, Americans who are fed up with the chaos and cruelties of the Trump administration must find a way to separate Trump from his knee-jerk supporters in Congress. 
And here it is: 
American voters need not wait until the fall elections to "send a message" to Republicans in the House and Senate. Instead, they can immediately launch recall campaigns against all Republicans in both houses of Congress. 
That would have a far greater impact on Republicans than sending mere letters of outrage. Or even rejecting individual Republican candidates, such as Roy Moore in Alabama and Rick Saccone in Pennsylvania.
And this is where the Democratic party must finally show some backbone.
Democrats must launch an unceasing advertising campaign to persuade voters to force a nationwide recall of all Republicans. 
Republicans must be forced to realize they will lose their privileged positions for supporting a vicious, unstable President who sells out the Nation to a hostile foreign power—Russia. 
Only then will they sweep him out of the White House like a dead rat on the kitchen floor.