On January 21, Donald Trump–on his first full day as President–visited the CIA headquarters in Langley, Virginia.
Officially, he was there to pay tribute to the men and women who serve on the front lines of America's Intelligence community.
The men and women who dedicate their lives to finding out when and where America's enemies are planning to strike.  And to countering those threats.
Unofficially, Trump was there for a reason he would never admit: To make amends for a smear campaign he had waged since November against the CIA in particular and the Intelligence community in general.
The reason: He had been enraged at the unanimous findings by the FBI, CIA and the National Security Agency that Russian President Vladimir Putin had intervened in the 2016 Presidential election to ensure the defeat of Trump's Democratic opponent, Hillary Clinton.
And now Trump was appearing before what, to CIA employees, was the agency's most sacred site: The star-studded memorial wall honoring the 117 CIA officers who had fallen in the line of duty.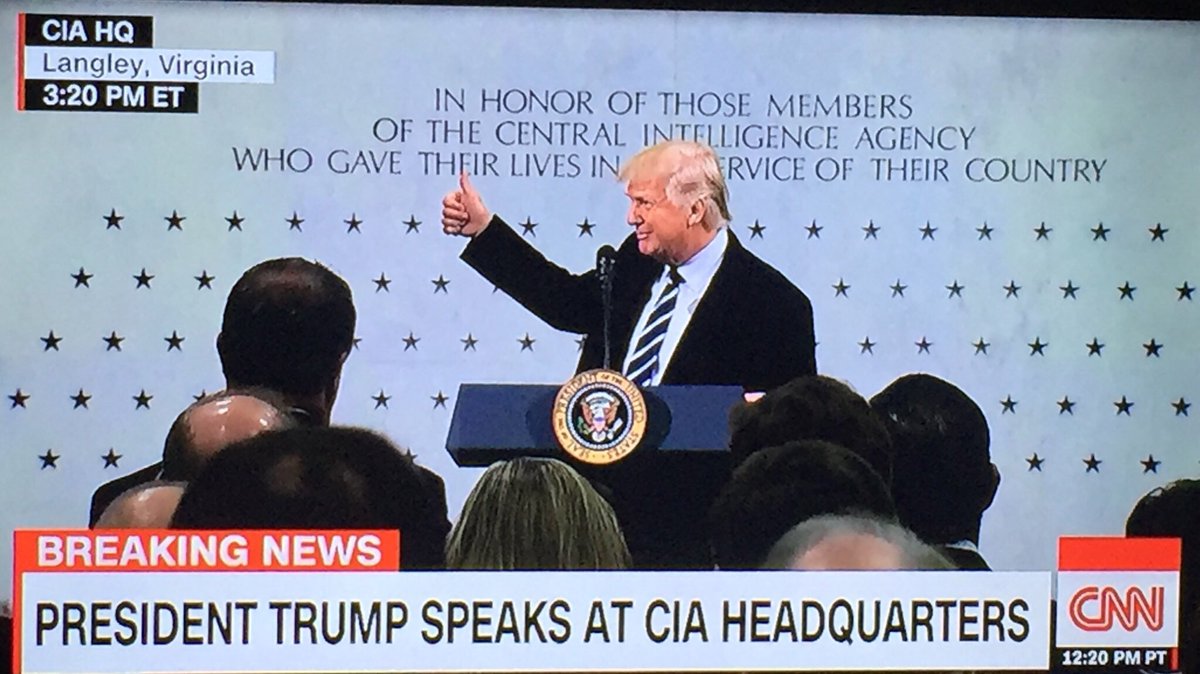 Donald Trump at the CIA
So what did Trump spend much of his time talking about?
Himself, of course.
Here are the major excerpts:
….You know, when I was young and when I was — of course, I feel young. I feel like I'm 30, 35, 39. Somebody said, are you young? I said, I think I'm young. You know, I was stopping — when we were in the final month of that campaign, four stops, five stops, seven stops. Speeches, speeches, in front of 25,000, 30,000 people, 15,000, 19,000 from stop to stop. I feel young….
When I was young, we were always winning things in this country. We'd win with trade. We'd win with wars….We don't win anymore. The old expression, "to the victor belong the spoils" — you remember.
I always used to say, keep the oil. I wasn't a fan of Iraq. I didn't want to go into Iraq. But I will tell you, when we were in, we got out wrong. And I always said, in addition to that, keep the oil….
Now, I said it for economic reasons. But if you think about it….if we kept the oil you probably wouldn't have ISIS because that's where they made their money in the first place. So we should have kept the oil. But okay.  Maybe you'll have another chance….
And the reason you're my first stop is that, as you know, I have a running war with the media. They are among the most dishonest human beings on Earth. 
And they sort of made it sound like I had a feud with the intelligence community. And I just want to let you know, the reason you're the number-one stop is exactly the opposite — exactly. And they understand that, too.
And I was explaining about the numbers. We did a thing yesterday at the speech. Did everybody like the speech?  I've been given good reviews. But we had a massive field of people. You saw them. Packed. I get up this morning, I turn on one of the networks, and they show an empty field. 
I say, wait a minute, I made a speech. I looked out, the field was — it looked like a million, million and a half people. They showed a field where there were practically nobody standing there.
Crowds at Trump and Obama Inaugurals
And they said, Donald Trump did not draw well. I said, it was almost raining, the rain should have scared them away, but God looked down and he said, we're not going to let it rain on your speech.   
In fact, when I first started, I said, oh, no. The first line, I got hit by a couple of drops. And I said, oh, this is too bad, but we'll go right through it. But the truth is that it stopped immediately.
It was amazing. And then it became really sunny. And then I walked off and it poured right after I left. It poured. But, you know, we have something that's amazing because we had — it looked — honestly, it looked like a million and a half people. Whatever it was, it was….
We had 250,000 people literally around — you know, in the little bowl that we constructed. That was 250,000 people. The rest of the 20-block area, all the way back to the Washington Monument, was packed. So we caught them, and we caught them in a beauty. And I think they're going to pay a big price. 
So a reporter for Time magazine — and I have been on there cover, like, 14 or 15 times. I think we have the all-time record in the history of Time Magazine. 
I've been on it for 15 times this year. I don't think that's a record….that can ever be broken.  Do you agree with that? What do you think?  
* * * * *
At least one former CIA director, John Brennan, thought Trump's remarks were "despicable."
"Former CIA Director Brennan is deeply saddened and angered at Donald Trump's despicable display of self-aggrandizement in front of CIA's Memorial Wall of Agency heroes. Brennan says that Trump should be ashamed of himself," Nick Shapiro, Brennan's former deputy chief of staff, said in a tweeted statement.