In the 1970 film, Patton, General George S. Patton is a man driven by his obsession to be the best field commander in the war–and to be recognized for it.
George C. Scott as George S. Patton
And he sees British General Bernard Montgomery–his equally egotistical rival–as a potential obstacle to that latter ambition.
So, in Algeria, he conjures up a plan that will sideline "Monty" while he, Patton, defeats the Germans–and bags the glory.
The trick lies in throwing a sumptuous dinner–in the middle of the African desert–for a visiting British general: Harold Alexander.
As Patton (George C. Scott, in an Oscar-winning performance) tells his aide: "I want to give a dinner for General Alexander. I want to get to him before Montgomery does. I want the finest food and the best wine available. Everything."
The aide pulls off the dinner–where, indeed, "the finest food and the best wine" are on full display, along with attentive waiters and a candelabra.
So think about it:
In the middle of the desert

while American and British forces are forced to subsist on C-rations

and are under repeated air attack by the

Luftwaffe
and tank attack by the

Afrika Korps
a handful of ultra-pampered American and British military officers find the time–and luxuries–to throw themselves a fine party.
Now, fast-forward from Algeria in 1943 to Washington, D.C. in 2016.
Returning to Congress after their traditional summer recess, House Republicans planned to cut $23 billion in food stamps for the poor. This would include include ending waivers that allow some adults to get temporary assistance, while they are in school or training for a job.
The cuts could include drug tests of applicants and tougher work rules. As Republicans see it: There's no point in "helping" the poor if you can't humiliate them.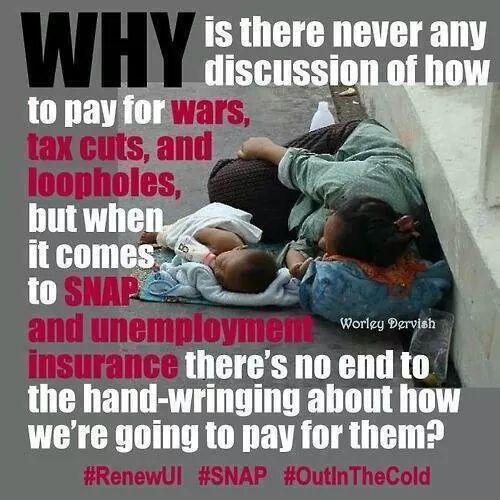 The food stamp program, now called the Supplemental Nutrition Assistance Program, or SNAP, served more than 46 million Americans and cost $74 billion in 2015.
A single person is eligible for food stamps if his total monthly income is under $1,265 ($15,180 per year). A family of four is eligible if their total income is less than $2,584 per month ($31,008 per year).
Republicans claim the program is unbearably expensive at $74.1 billion a year.
Meanwhile, Republicans are eager to spend billions of dollars for another project: An unnecessary war with Syria.
One of these right-wingers is Bill Kristol, editor of the Weekly Standard–and one of the leading instigators of the 2003 war with Iraq.
Bill Kristol
He–like senior officials on the George W. Bush administration–falsely claimed that Iraqi dictator Saddam Hussein had weapons of mass destruction and planned to use them against the United States.
Another Kristol lie: Hussein planned 9/11 with Osama bin Laden.
He has never apologized for either lie–or the resulting war that killed 4,487 American soldiers and wounded another 32,226.
In a September, 2013 column, Kristol called for a return to slaughter–not only in Syria but Iran as well:
"…Soon after voting to authorize the use of force against the Assad regime, Republicans might consider moving an authorization for the use of force against the Iranian nuclear weapons program.
"They can explain that Obama's dithering in the case of Syria shows the utility of unequivocally giving him the authority to act early with respect to Iran."
Former Secretary of State Condoleeza Rice–who also helped lie the nation into the needless 2003 Iraq war–is another big promoter of "give war a chance:"
"My fellow Americans, we do not have a choice. We cannot be reluctant to lead–and one cannot lead from behind."
Among Republican U.S. Senators calling for war are John McCain (Arizona) and Lindsey Graman (South Carolina), who issued a joint statement:
"Using stand-off weapons, without boots on the ground, and at minimal risk to our men and women in uniform, we can significantly degrade Assad's air power and ballistic missile capabilities and help to establish and defend safe areas on the ground.
"In addition, we must begin a large-scale effort to train and equip moderate, vetted elements of the Syrian opposition with the game-changing weapons they need to shift the military balance against [Syrian dictator Bashar] Assad's forces."
Except that there are no "moderate, vetted elements" of the Syrian opposition. The opposition is just as murderous as the Assad regime–and eager to replace one dictator with another.
In addition: A major weapon for "degrading Assad's air power" would be Tomahawk Cruise missiles. A single one of these costs $1,410,000.
Firing of a Tomahawk Cruise missile
A protracted missile strike would rain literally billions of dollars' worth of American missiles on Syria.
Meanwhile, the Pentagon is spending about $27 million a week to maintain the increased U.S. Navy presence in the Mediterranean Sea and Middle East region to keep watch over Syria and be prepared to strike.
Navy officials say it costs about $25 million a week for the carrier group and $2 million a week for each destroyer.
Is there a lesson to be learned from all this?
Yes.
Powerful people–whether generals, politicians or the wealthy–will always find abundant money and resources available for projects they consider important.
It's only when it comes to projects that other people actually need that the powerful will claim there is, unfortunately, a cash shortage.