On the morning of August 3, 2019, a lone gunman killed 22 people and injured 24 others in El Paso, Texas. 
On August 7, President Donald Trump flew to El Paso—allegedly to comfort the surviving victims of that massacre.
But what was officially intended to be a day of comforting the afflicted became one of Presidential egomania.
Trump initially praised the medical staff of the University Medical Center at El Paso: "The job you've done is incredible. They're talking about you all over the world."
But then he quickly pivoted to praise himself.
He said that he and his Democratic Presidential rival, Beto O'Rourke, had staged political rallies in El Paso earlier in February. And he mocked the relatively small size of the crowd that had attended the one by O'Rourke:
"I was here three months ago, we made a speech. That place was packed. …That was some crowd. And we had twice the number outside. And then you had this crazy Beto. Beto had like 400 people in a parking lot, they said his crowd was wonderful." 
Trump did not boast that he has still not paid the $569,204.63 his campaign owes to El Paso for police and public safety fees from that rally.
After mocking Beto O'Rourke, Trump referred to his earlier visit that day to Miami Valley Hospital in Dayton, Ohio.
Three days earlier, on the morning of August 4, another gun massacre had rocked Dayton. Ten people were killed, including the gunman, and 27 others were injured.
But empathy for the victims—dead and living—was far from Trump's mind as he spoke with medical staffers in El Paso: 
"We had an amazing day. As you know, we left Ohio. And the love and the respect for the office of the presidency, it was—I wish you could have been in there to see it. I wish you could have been in there."
John Olilver, an English comedian, political commentator and television host, offered a scathing review of Trump's behavior: "Look, we all know how much Trump struggles to do the bare minimum of being a president, but it's still genuinely shocking just how much he struggles to do the bare minimum of being a fucking person.
John Oliver
"Just consider the thought process that happened there: He visited a hospital filled with victims of a mass shooting and thought to himself: 'Remember that other time when I was the center of attention and it was better?' And then he thought: 'Do you think anyone else remembers that?' Then he thought: 'I should remind them, right?!' Then he thought: 'Great idea!'"
From the outset of his Presidency, Trump has routinely made himself the center of attention on what should have been a somber occasion.
The first time this happened was on January 21, 2017—the day after his inauguration.
He visited the headquarters of the CIA in Langley, Virginia, to pay tribute to the men and women who discover—and counter—the deadly plots of America's sworn enemies. 
Now Trump stood before what, to CIA employees, was the agency's most sacred site: The star-studded memorial wall honoring the 117 CIA officers who had fallen in the line of duty.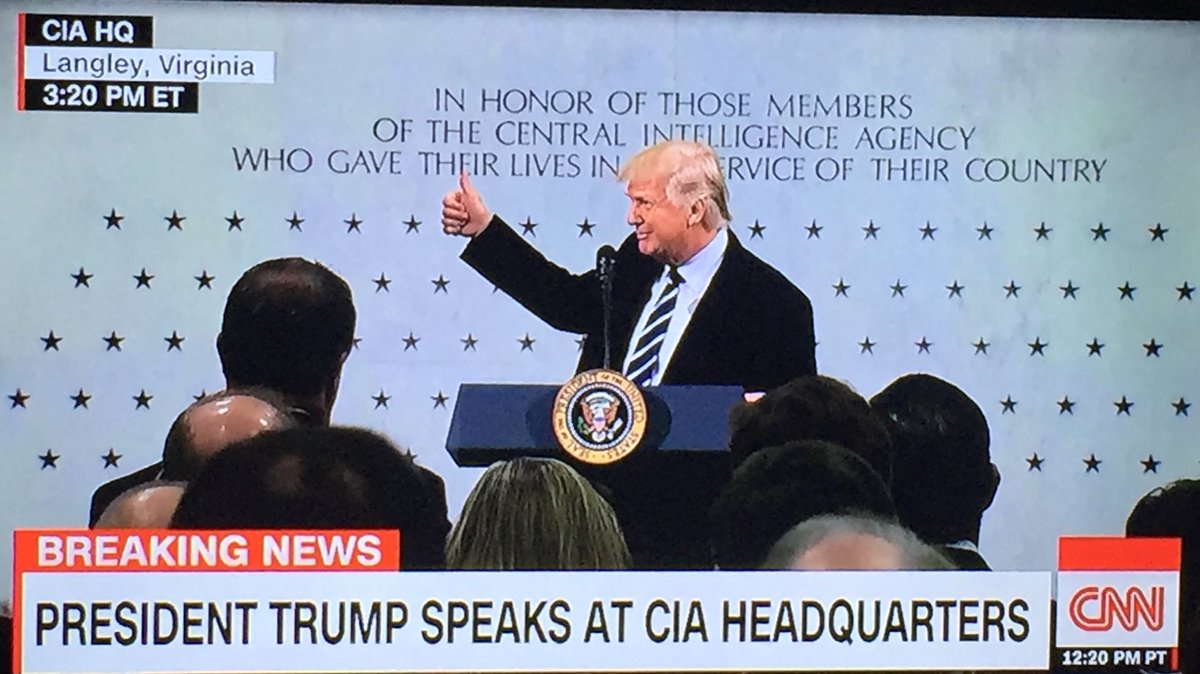 Donald Trump at the CIA
So Trump talked about—himself. 
Here are the some excerpts:
….You know, when I was young and when I was—of course, I feel young. I feel like I'm 30, 35, 39. Somebody said, are you young? I said, I think I'm young. You know, I was stopping— when we were in the final month of that campaign, four stops, five stops, seven stops. Speeches, speeches, in front of 25,000, 30,000 people, 15,000, 19,000 from stop to stop. I feel young…. 
* * * * *
And I was explaining about the numbers. We did a thing yesterday at the speech. Did everybody like the speech?  I've been given good reviews. But we had a massive field of people. You saw them. Packed. I get up this morning, I turn on one of the networks, and they show an empty field. 
I say, wait a minute, I made a speech. I looked out, the field was—it looked like a million, million and a half people. They showed a field where there were practically nobody standing there.
Crowds at Obama (left) and Trump (right) Inaugurals
And they said, Donald Trump did not draw well. I said, it was almost raining, the rain should have scared them away, but God looked down and he said, we're not going to let it rain on your speech. 
* * * * *
So a reporter for Time magazine—and I have been on their cover, like, 14 or 15 times. I think we have the all-time record in the history of Time magazine. Like, if Tom Brady is on the cover, it's one time, because he won the Super Bowl or something, right?
I've been on it for 15 times this year. I don't think that's a record….that can ever be broken. Do you agree with that? What do you think? 
* * * * *
Former CIA director John Brennan thought Trump's remarks were "despicable."
That word is now widely being used to describe the man who, tweeted Beto O'Rourke, "helped create the hatred that made Saturday's tragedy possible."