Weapons manufacturers are the only companies in the United States that cannot be sued for the deaths and injuries their products cause.
This is because The Protection of Lawful Commerce in Arms Act, or PLCAA, immunizes the American firearms industry against lawsuits by victims of mass shootings and gun violence.
Rammed through a Republican-dominated Congress in 2005 by the National Rifle Association (NRA), it was signed into law by President George W. Bush. 
But on March 15, 2019, the Supreme Court of Connecticut ruled that families of schoolchildren gunned down in the 2012 Sandy Hook Elementary School massacre could sue Remington Outdoor Co Inc., over its marketing of military-style Bushmaster weapons to civilians.
The Court ruled that the victims' families had the right to sue Remington under the Connecticut Unfair Trade Practices Act (CUTPA).
Among the ads that Remington ran to promote its military-style AR-15 Bushmaster rifle: 
"Truly the most versatile and adaptive rifle ever conceived, it was born of a collaborative effort between Bushmaster, Magpul and Remington to create the ultimate military combat weapons system."

A photo of a Bushmaster with its barrel facing the reader, with the caption: "CONSIDER YOUR MAN CARD REISSUED." 

A photo of a Bushmaster, alongside the slogan: "Forces of opposition, bow down. You are single-handedly outnumbered."

"ONE RIFLE. MANY MISSIONS. THE REVOLUTIONARY, FULLY MODULAR REMINGTON ACR (ADAPTIVE COMBAT RIFLE)."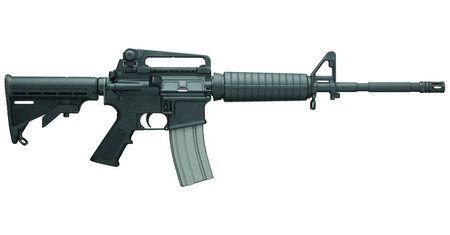 Remington AR-15 Bushmaster
"The defendants knowingly marketed, advertised, and promoted the XM15-E2S for civilians to use to carry out offensive, military style combat missions against their perceived enemies," alleges the Newtown lawsuit.
And the Justices ruled that, "such use of the XM15-E2S, or any weapon for that matter, would be illegal, and Connecticut law does not permit advertisements that promote or encourage violent, criminal behavior.
"We are confident… that, if there were credible allegations that a firearms seller had run explicit advertisements depicting and glorifying school shootings, and promoted its products in video games, such as 'School Shooting,' that glorify and reward such unlawful conduct, and if a troubled young man who watched those advertisements and played those games were inspired thereby to commit a terrible crime like the ones involved in the Sandy Hook massacre, then even the most ardent sponsors of PLCAA would not have wanted to bar a consumer protection lawsuit seeking to hold the supplier accountable for the injuries wrought by such unscrupulous marketing practices."
Connecticut Supreme Court Building
Said David Wheeler, father of a Sandy Hook victim: "There is a reason why this particular consumer product is the one that is used by people who want to inflict the most damage, and we have seen it time and time again since my son and his classmates were killed. That reason very likely potentially resides in the documents that we have been unable to look at until now."
"The families' goal has always been to shed light on Remington's calculated and profit-driven strategy to expand the AR-15 market and court high-risk users, all at the expense of Americans' safety," said Josh Koskoff, one of the lawyers for the victims' families, "Today's decision is a critical step toward achieving that goal." 
"This is a landmark and potentially historic ruling," said Adam Winkler, a UCLA Law School professor who specializes in constitutional law. "While all this decision does is allow a case to go forward, in broader terms it really opens up a new avenue for holding gunmakers responsible."
More importantly, the ruling could spur similar suits in other states. "This could prompt further such suits not only for cases of mass shootings, but individual ones as well," Winkler said.
The decision by the Connecticut Supreme Court wasn't unanimous. Three of its seven justices dissented.
The case now goes back to the lower court for further proceedings and a possible trial.
Opinion remains divided over its chances for success.
According to National Public Radio: "The suit is a high-stakes challenge to gun companies, which have rarely been held liable for crimes committed with their products, and could mark a new front in the battle over gun regulations and corporate accountability.
"An eventual ruling against Remington could establish legal precedent, opening doors for more lawsuits against gun manufacturers, and expose the company's communications about its marketing plans." 
Noted The Root: "While federal judges remain split on which laws apply to firearm manufacturers, Connecticut judges have drawn a line in the sand. While U.S. Supreme Court intervention on behalf of Remington is a distinct possibility, Connecticut's decision could inspire lawmakers and lawyers to take a hard look at PLCAA."  
"The larger implications of this are that the Connecticut Supreme Court has just blown a giant hole in the PLCAA and in federal immunity for firearms manufacturers," said Timothy Lytton, a law professor at Georgia State University.
Lytton predicted that the United States Supreme Court would be likely to take up the case: "What we're talking about here is the interpretation of a federal statute and that falls squarely in the jurisdiction of the [United States] Supreme Court."
A spokeswoman for the National Rifle Association declined to comment.